Halloween Treats with Spooky Lab
This is a post sponsored by Coca-Cola and Nabisco. All opinions are 100% my own.
Hey guys!!! Halloween is right around the corner and we could not be more excited!!!! I love Halloween!! As much as I love Halloween I'm not into all the creepy, scary side of Halloween, I like the fun just a bit spooky side of it.
So when I host a Halloween party I keep my decor and treats just a bit spooky!
Fanta and Nabisco are my go to ingredients to make a party special, everyone already loves them and they make any party easy and delicious!  I am all about making things easy when hosting a party!
I am going to show you a few of my favorite easy and spooky party treats sure to be a hit at your Halloween party!
Right now the Spooky Snack Lab that has all sorts of fabulous inspiration for your Halloween party. During October you can find delicious recipes and tips by visiting the Fanta and Nabisco Spooky Lab board on Nabisco's Pinterest Page and follow along on social media by using the hashtag #SpookySnackLab.
There is also an amazing contest going on right now with some exciting prizes! All you have to do is create your own #SpookySnackLabContest Pinterest Board and pin some great Halloween ideas for your chance to win your own Spooky Snack Lab prize including
3 packages of OREO Cookies, one package each of, RITZ Crackers, CHIPS AHOY! Cookies, WHEAT THINS Snacks, TRISCUIT Crackers, NUTTER BUTTER Cookies
Two (2) 6-packs of Fanta Orange mini cans
Four (4) 12-oz cans each of Fanta Orange, Grape, Pineapple and Strawberry
A card with recipe inspiration
A $500 gift card
So of course you want to win this awesome prize pack right?? So just create your #SpookySnackLabContest Pinterest Board and then comment below with the link to your board and you could win!!
Now onto some of these spooktacular recipes I have been promising you! Throwing together a Monster Mash Party doesn't have to be scary, it can be easy and delicious!
These treats are soo easy to make, real crowd pleasers and double as decorations. When throwing a Halloween Party I like to have fun and not so scary decorations so everyone can enjoy themselves, who says Halloween has to be super scary? I love the bright combo of orange, green and purple for Halloween, sparkly pumpkins, friendly ghosts are all perfect for throwing the perfect slightly spooky party.
Now onto those easy party treats I have been promising you!
These Spooky Monster Eye Cookies are a cinch to make and soo yummy!  I start with NUTTER BUTTER Cookies (anything that starts with those is going to be delicious!!)
Then I coat them brightly colored chocolate and affix candy eyes to them.  How cute are they?! Easy, fast and will disappear off the party table!
Next for something a little savory I have my Black Widow Hummus made with black beans, adorned with a sour cream spider web and black olive spiders!
Hummus is the ultimate party food, it comes together in minutes and everyone loves it!  For this hummus I add a spooky touch by throwing in some black beans to give it it's dark color.
Then I pipe on the sour cream spider web.
Ingredients
1 cup canned black beans, drained
1 cup canned garbanzo beans (chickpeas), drained
1 tablespoon olive oil
2 tablespoons fresh lemon juice
2 tablespoons plain nonfat yogurt
1 clove garlic, roughly chopped
salt and pepper to taste
Sour cream
Black olives
Instructions
Place all ingredients except sour cream and olives into the food processor and blend till well mixed.
Spread in a pie pan.
Place sour cream into a ziploc bag and cut off a small tip.
Pipe on your spider web.
Decorate with black olives to resemble spiders.
Serve with TRISCUIT Crackers and WHEAT THIN Snacks
I serve WHEAT THIN Snacks and TRISCUIT Crackers with this dip because they go perfectly with hummus and are my favorite!!
Now for some Swamp Slushies.  Again these are super simple!  I take lime sherbet and Pineapple Fanta, throw it in the blender until it forms a slushie.  Then I serve with some gummy worms or little gummy octopi that kind of look like spiders.  These are fun and refreshing!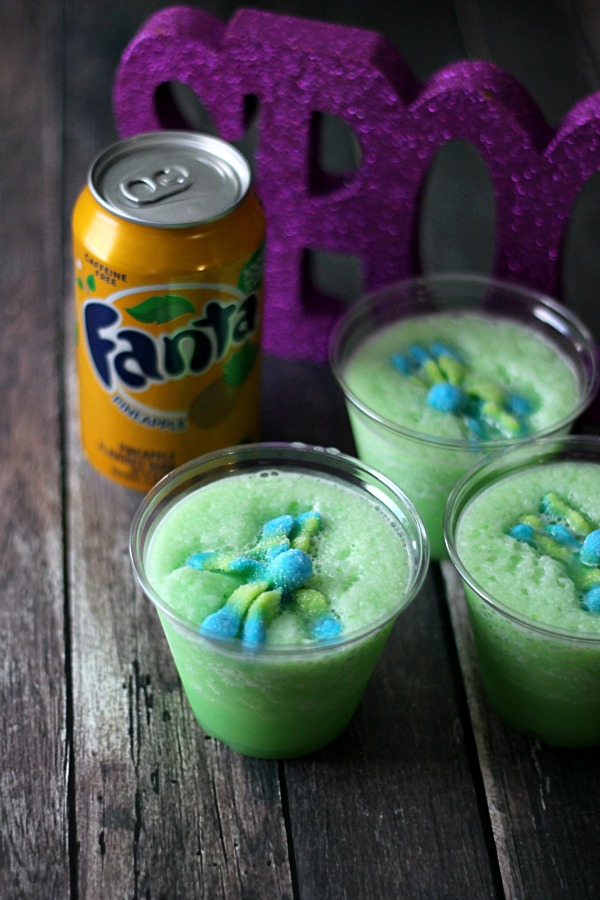 I hope you like all my Spooky Lab Halloween Party treats and they inspire you to create your own party!!
Evette Rios will be bringing you Spooky Lab YouTube videos all month long where you can find more easy spooky treats perfect for Halloween just like this one…
So check out her amazing videos where you can get more spooky inspiration!
Don't forget to create your own #SpookySnackLabContest and come back here with the link so you can be entered to win that great prize package!!
Have a spooktacular Halloween!!