Back to School with Harris Teeter
This post is sponsored by Harris Teeter.  All opinions are 100% my own.  
Hey guys!!  Do you smell that?  The sharpened pencils and crayons from the back to school section you swear wasn't there yesterday.  The stacks of crisp fresh paper, new back to school clothes and of course a new snazzy lunch box!  You may hate it, but I love back to school time!  Even before I had kids, I just loved it, maybe because it signals the beginning of my favorite season, fall.
Okay so call me crazy but I love packing school lunches.  When Dean started kindergarten I couldn't wait to make his lunch.  He is getting ready to start 2nd grade and he is so excited!
After all the school supplies were bought I headed to Harris Teeter to stock up on lunch making supplies.
I love Harris Teeter, they are one of my favorite grocery stores.  Let me tell you, they make the absolute best subs, and don't even get me started on their amazing asian bar, yum!
So when you are having one of those crazy busy nights, Harris Teeter has so much great food you can just grab and go and dinner is done!
Harris Teeter has lowered prices on many private label items, many of which are staples for Dean's school lunch, or after school snacks or a fueling breakfast.
I love doing my grocery shopping at Harris Teeter because their  Private Label items are priced lower than the other grocer's private label items and the quality is so amazing!!
So I definitely get all my back to school lunch supplies at Harris Teeter.  Dean is a pretty picky eater but thankfully he loves all of the Harris Teeter Private Label items I pack in his lunch.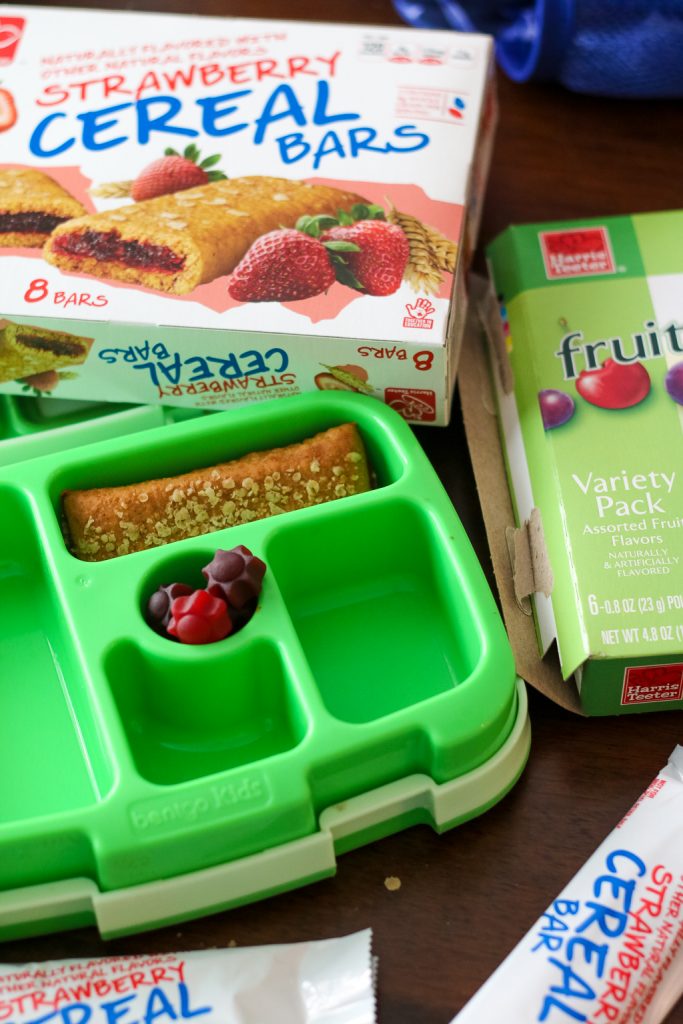 A quick Honey Smoked Turkey Sandwich on thin white bread (no crust of course), apple slices, a strawberry cereal bar and of course no lunch is complete without a fruit snack treat!
I get all of these delicious lunch fixings right at Harris Teeter at excellent prices.  Dean has a happy lunchbox and I have a happy wallet!
I always thrilled with everything I get there but if for any reason you aren't they've got you covered! If you are not satisfied with a private label brand for any reason, you can return your item to the store and Harris Teeter will refund your money as well as replace the item with a like item of your choice (restrictions apply).
Dean can't wait to start 2nd grade!  Share photos of you and your kids getting back-to-school ready for a chance to win a $50 gift card!