Pack a snack with Goldfish®
This is a sponsored post for Socialstars and Goldfish® snacks.  All opinions are 100% my own. #GoldfishCrowd
Hey guys!!!  I have another great post for you today featuring our favorite snack Goldfish® crackers!
Have you seen the new Goldfish® Mix Flavors?  They are delicious!!
They have new Goldfish® Mix Xtra Cheddar + Pretzel crackers which Dean loves!!!  I love, love, love the new Goldfish® Mix Honey Mustard + Pretzel cracker variety.  If we are feeling like something a little sweet their new Goldfish® Mix Chocolate Mint + Pretzel crackers are amazing!
With summer time coming up we spend lot's of time in the car, whether long trips or short ones there has to be snacks!
Snacks stop all the whining and fussing even on the hottest day or the longest drive.  I say it stops all the whining unless they don't want to share snacks, that is a whole other issue when you have kids and I have the perfect travel solution!!
I let the kids make their own snack mix!  I just set out all sorts of their favorite travel snacks and let them fill up a clean and empty creamer bottle.
The kids get to put their favorite snacks in the bottle, whatever they want.
What I love about these bottles is that they keep the snacks in place, no bags of crackers or chips flying all over the car.  They are easy to open, no yelling from the back seat to open this or open that, the little flip spout is easy to open even for little hands.  They can pour out just the right amount, only a little comes out at a time so you don't have to worry about snacks all over the floor boards.
Also if the want to share these bottles make it easy to pass back and forth without any mess.
I love that each kid can customize their own mix and I love seeing what they will come up with.  Also it makes so much that this snack mix will last them awhile and it will stay fresh in these containers for quite some time.
I went a sweet route for this mix, setting out Goldfish® Mix Chocolate Mint + Pretzel crackers, peanuts, marshmallows and chocolate chips.  You can use anything you have in your pantry, cereal that is almost gone, raisins, anything goes.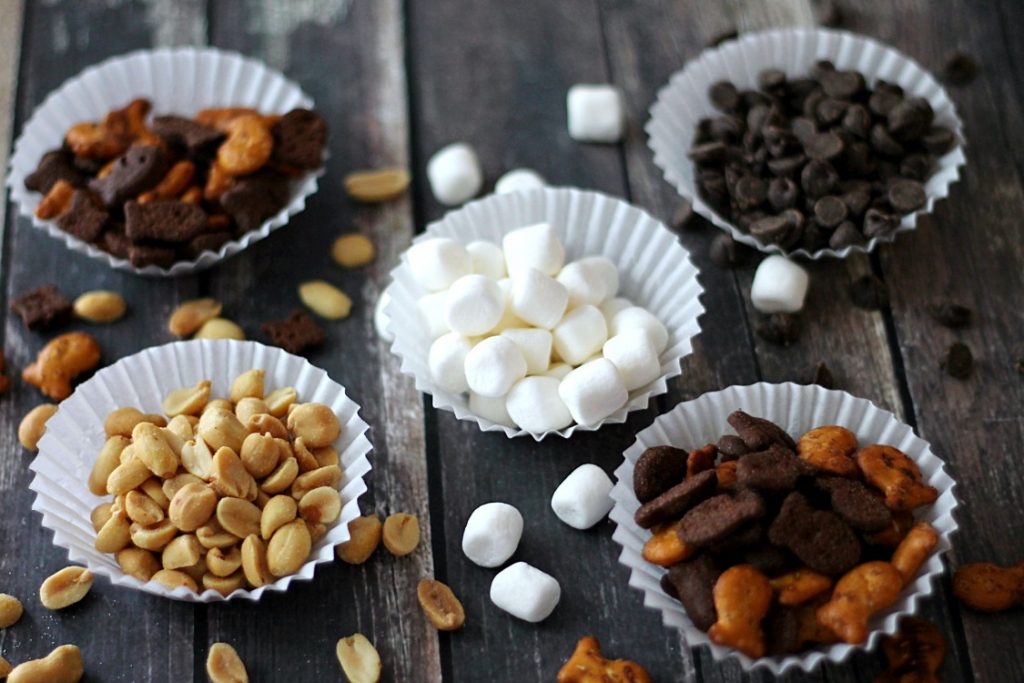 For a salty spin you can use Goldfish® Mix Xtra Cheddar + Pretzel crackers and Goldfish® Mix Honey Mustard + Pretzel crackers and set out some other salty snacks to mix them with like popcorn and nuts.
This is just a fun and easy way to get kids involved in making snacks for a road trip or even just to make these and keep them in the pantry as a quick grab on your way out the door to run errands.
We love Goldfish® crackers and bringing them along on every trip is a must!
Don't forget about the promo Goldfish® crackers has going on!
Did you know Goldfish® snacks has a #GoldfishTalesPromotion going on? Now through 06/30/16 you can create a photo or video that shows off Goldfish crackers in a Great Outdoors theme via Twitter or Instagram with the hashtag #GoldfishTalesPromotion to enter. Posts using #GoldfishTalesPromotion may appear in the gallery on GoldfishSmiles.com. No Purchase Necessary. Open only to 50 US/DC residents 18+. Ends 06/30/16. Official rules and more at www.GoldfishSmiles.com. Void where prohibited.