Awesome Movie Night with Guardians Of The Galaxy!
This shop has been compensated by Collective Bias, Inc. and its advertiser. All opinions are mine alone. #OwnTheGalaxy #CollectiveBias
Hey guys!!  Get ready because I am about to gush all about Guardians Of The Galaxy!  It is an absolute favorite of ours.  Have you seen it? Of course you've seen it!  And if you haven't well you just need to march your little butt right to Walmart, pick yourself up a copy and grab some popcorn too!
So for those of you that have seen it, you know it's pretty much one of the best movies ever, it ranks wayyyy up there.  If you haven't seen the movie, well let me tell you…… This movie is great, it has everything the perfect movie could have, so much action, it will keep you laughing, and you will fall in love with Groot just like the rest of the world has.  It has a few tear jerker moments, lots and lots of actions scenes to keep your little ones interested, just a sprinkle of romance, and hey for all us mamas out there it's got some eye candy in the form of Chris Pratt!
I really believe this movie is going to stand the test of time and become a classic, it is just that perfect.  Though I sound like a commercial for this movie I promise you I am a movie junkie and very rarely does a movie come along that I could watch everyday, so these are my honest feeling about GOTG.  I could not wait for December 9th when it would be released!
Of course Tuesday when it was released I was in Walmart first thing in the morning to get my copy.  I also could not help but pick up some fabulous merchandise.  I knew later that night we were going to be watching it and so I picked up a few toys for Dean, okay okay and a few for my comic geek husband.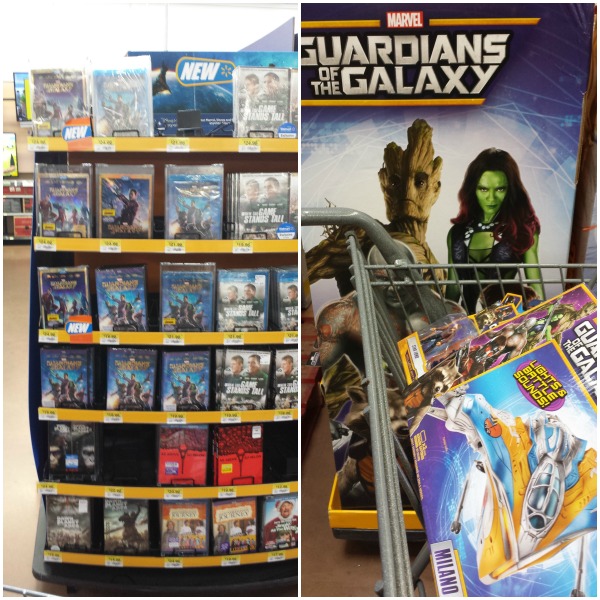 I already had these plastic Guardians cups at home and they were perfect for filling up with popcorn.  Each of us had our own cup of popcorn and I topped each one with a little GOTG figure for a special surprise, which my boys loved.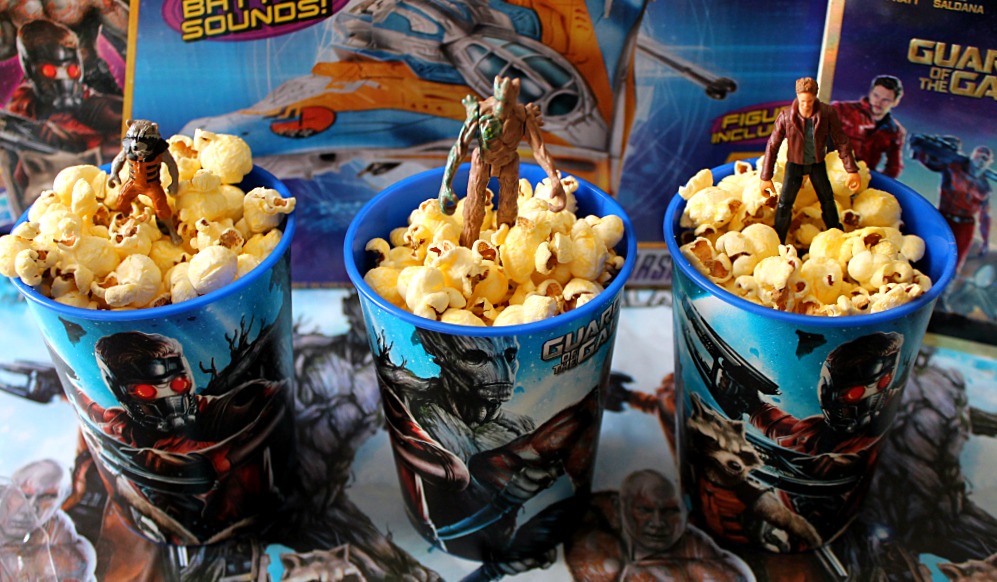 I set everything out to surprise the boys with when it was movie time and they loved it!  Now I just served popcorn because we were watching it after dinner, however, if you want to really go all out I have a few treat ideas to make your Guardians Of The Galaxy movie night super awesome.
I had some gingerbread dough in my fridge and I helped Dean mold the dough into little Groots.  Then I just baked them and helped him decorate them for a super simple cookie idea that the kids will love.  Best part of it was I just used store bought dough so that was easy peasy.
A little frosting and sprinkles make up his hair?roots? lol and his face.
Another great idea I made earlier this year are Groot Pretzels.  Pretzel rods are just covered in a little melted chocolate for a perfectly portable salty sweet movie snack.
If you want to go a little sweeter you can make this Galaxy Bark which comes together in minutes and the kids will love it!
We had an amazing time sitting down together and watching the movie and even more fun playing with the toys we got from Walmart.  We picked up a few Marvel Legends my husband's favorite, the Milano ship which is Dean's favorite and a lights and sounds Star Lord which was my favorite (hehe)
Now it is the holiday season and everyone I know would love a copy of Gaurdians Of The Galaxy for a gift.  Just get a little basket fill it up with some popcorn, candy, the movie and of course your cute little Groot cookies.  Present Perfection!
If it is a gift for little ones just hit up the Gaurdians display at your Walmart and add some of the fun toys to the gift.  They have Gaurdians Legos, masks, action figures and more.  For my husband I know he would love the soundtrack which you can also grab while your at Walmart.
I just grabbed the Blu Ray copy but they have a DVD Blu Ray combo pack which includes exclusive Character O-sleeve and exclusive music zinepack and a 64 page magazine with cast and crew interviews, exclusive behind-the-scenes photos and trivia PLUS a custom "cassette" laptop decal.
If you can't get enough Guardians then I have a treat for you!  When you are at Walmart if you purchase a Groot, Drax or Rocket Racoon figure for the Disney Infinity 2.0 you will get a $5 Walmart gift card (from 12/7 – 12/13)
Have you seen this awesome movie yet?  Will you be gifting this DVD for the holiday season?