This is a sponsored post written by me on behalf of Daytona Beach Area Convention & Visitors Bureau for IZEA. All opinions are 100% mine.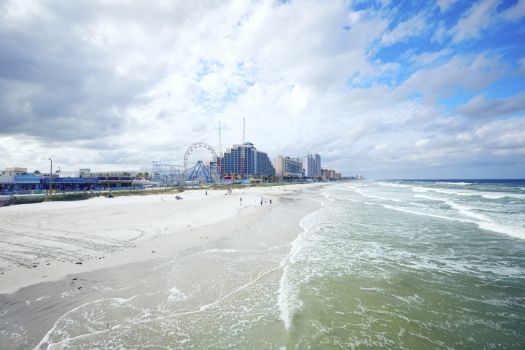 Hey yall!!  I know most of us are in a deep chill this week and it's only going to keep getting colder!  That is why you should plan a visit to the sunny beaches of Daytona Beach!
It is the perfect spot for a romantic getaway or just a great place to bring the whole family for a fabulous vacation.
There are so many different activities and Kid friendly options you can engage in not to mention the picturesque beaches covered in sparkling white sands,Outdoor Fun and amazing dining options.
Did you know you can even drive your car right along the water's edge?  That's not all you can do by the water, there is tons of hotels, motels, condos for rent, bed and breakfasts, and camping grounds.
Now of course who doesn't want to spend all day lounging on the beach and splashing in the waves?  But if you are looking for a bit more Daytona Beach has you covered.  You can go deep-sea fishing, do an array of water sports or visit one of Daytona's historical sites.  You can even explore some of the Free Things to Do in Daytona Beach
There is something for all you night owls too!  Daytona has a fab selection of fine dining, bars and dance clubs all perfect for satisfying your night life needs.
Now I know you are already packing your bags so you can visit but I forgot to mention one thing!  Daytona is the Festival Capital of Florida!! Their fall festivals make this time of year an awesome time to visit.  There is a blues festival, daily live music or you can hit up the Halifax Art Festival or the always entertaining Daytona Beach Film Festival.  I know my boys would the Wings and Waves air show where over 40 different Air Force aircrafts put on an outstanding aerial performance over the Atlantic.
I am already planning my dream vacation to Daytona.  I think a 3 day weekend would be perfect!  I think starting the vacay off in one of the beachside hotels would be perfect and just spend the day on the beach soaking in all that sunshine and saltwater.  That night would of course be spent at on their fabulous restaurants before calling it a night.
Day 2 would consists of a historical site or two, a quick bite of lunch then hitting up the Wings and Waves air show festival!  Again we would end the night at another amazing restaurant.
Day 3 would be back on the beach to soak in that last bit of warmth before heading home.  No sunbathing this time, we would do water sports, maybe let the boys take in some fishing and walk then walk the beach while the sun sets.
Ahhh sounds like perfection huh?!
Daytona Beach is definitely a great place for your next vacation, you should check it out!! The beach awaits
So now you want to visit Daytona don't you?!?!  Have you ever been?  Tell me what you loved most!!