Summer Tea Time with Chicken & Waffles Salad and Raspberry Cheesecake Gelato Cupcakes

 #TEArifficPairs #CollectiveBias
Woo it is getting warm out, time to Celebrate Summer!  When the weather gets warm there is one staple my family has to have in the fridge and that is sweet iced tea.  My fridge, my mom's fridge and my grandma's fridge all have one thing in common, a huge pitcher of sweet iced tea with a few lemon wedges floating around.
There is nothing more refreshing than pouring yourself a big, icy glass of sweet tea and settling into the perfect summer meal at the end of a scorching day.
We spent the other day hanging out at the beach and celebrating that sunshiney days are finally here and I knew I wanted to end that day with a perfect summer meal.  Of course my southern roots urged me to prepare a traditional southern summer meal with fried chicken, rice and gravy, butter beans, sweet corn and top it all off with a freshly baked pound cake served with sugared berries and whipped cream.  Now that it is the epitome of the summer meals my grandma whips for Sunday suppers in the summer but I knew I was going to be tired and hot after spending all day at the beach and would not feel like tackling that meal.
So I came up with an alternative meal that would be nice and cool, minimal work but still give me the satisfaction of serving my family the comfort dinner I wanted to prepare.  I headed to Walmart to grab up some ingredients for dinner and I needed to replenish my tea stock and saw this awesome  Lipton "Fresh Brewed" Tea Cold Brew, which meant no boiling water to make a great glass of iced tea, perfect!
I decided to create Chicken & Waffles Salad.  Yes, that's right Chicken & Waffles in a salad!  It is delicious!  Tender bits of fried chicken, crispy waffle "croutons", crispy cool spring mix and a Maple Dijon Dressing to die for.  This salad is amazing!
No proper summer dinner is complete without that sweet tea I was talking about earlier.  So I got my Lipton "Fresh Brewed" Tea and made a big batch, nothing fancy here, just pure sweet iced tea.  The sweet crisp tea with it's hints of lemon paired perfectly with fried chicken in the salad and the tangy sweet dressing  made for a truly memorable meal.
Making the tea could not be simpler, you just let your tea steep in the cold water, then add your sugar to taste and lemon.  Makes the absolute perfect Sweet Iced Tea.
As for the salad it is a simple as it sounds and you can use fresh or frozen waffles, make the chicken tenders from scratch or use premade whichever you have time for, this salad can be made in minutes using store bought ingredients or you can go all out and make it all from scratch, it is delicious either way.
You just cut your chicken tenders into bite sized chunks, cube up your waffles, toss them with some melted butter and bake until crispy.  Then you add those to a great spring mix and top with dressing, and man oh man let me tell you about this dressing.
This Maple Dijon Dressing is amazing, it is my new favorite, I just add oil, vinegar, dijon, salt, pepper and the secret ingredient maple syrup into a mason jar and give it a shake.  It produces the most flavorful sweet tangy dressing perfect for this salad.
Summer Tea Time with Chicken & Waffles Salad and Raspberry Cheesecake Gelato Cupcakes
Ingredients
4-6 fried or baked crispy chicken tenders, from scratch or premade
4 Waffles, frozen or homemade
Spring mix lettuce
1/3 cup oil
2 tablespoons Dijon mustard
3 tablespoons maple syrup
1 tablespoons vinegar
Salt and pepper to taste
1/4 melted butter
Instructions
Cut your cooked chicken into bite sized pieces.
Preheat oven to 350
Cut waffles into bit sized squares
Mix waffles with butter and place on cookie sheet and bake about 7-10 minutes until crunchy and lightly browned.
Mix oil, mustard, syrup, vinegar, salt in pepper into a mason jar.
Shake vigorously until dressing is thoroughly mixed. (make sure that lid is tight!)
Arrange the chicken and waffles on lettuce.
Drizzle dressing over the salad and serve!!
Of course a summer meal as epic as this one needed some impressive desserts.  While shopping at Walmart I hit up the frozen treat aisle to grab some cool treats to end this summer time meal.  There were so many ice cream goodies I could not choose!
I of course grabbed everyone's favorite Klondike Bars and spotted this new Breyer's Gelato.  I decided to use the gelato to create some Raspberry Cheesecake Gelato Cupcakes.  These babies are dangerous and perfect for a summer time dessert.
No recipe needed for this one, just place a cookie down the bottom of each cupcake liner (in a cupcake pan).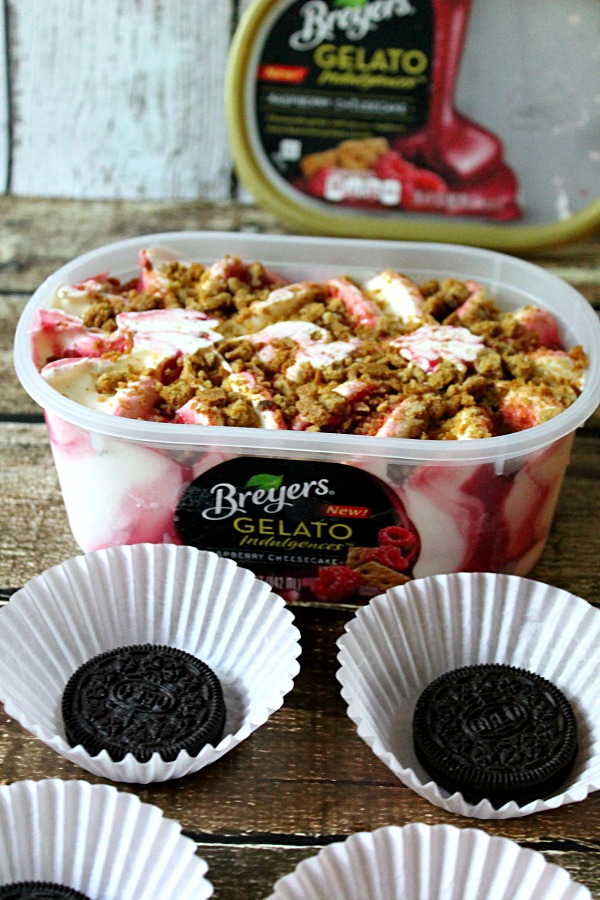 Then top with some of this sinfully delicious Breyer's Raspberry Cheesecake Gelato and freeze.
 I love making these because they are easy to pull a perfect serving out of the freezer, no fuss, no muss.  Top with some whipped cream and fresh berries and voila, effortless dessert that is utterly amazing.
I also served Klondike Bars for anyone needing a chocolate fix and they were demolished in minutes.
And nothing goes better with dessert than you guessed it, another glass of iced tea.  I mean really why drink anything else in the summer?  Iced Tea is like the official drink of summer around here.
So plan a nice summer activity and end it with this flavorful meal that pairs so great with Iced Tea, have yourself a chilly dessert with some amazing ice cream and then fill that mason jar with tea again and sit out on the front porch and watch the lighting bugs light up the summer night sky and enjoy summer to the last drop.