Sugar Cookie Cheesecake Bars
Luscious cheesecake filling on top of festive sugar cookie bars makes an amazing holiday dessert!
Hey guys!!  It is almost Christmas!!  I am soo excited!!  Of course once December rolls around it's all sugar plums and candy canes, gingerbread houses and hot chocolate.  That is why this dessert is perfect for the holidays!
We have big family gatherings for the holidays and I love hosting Christmas Eve and really wowing everyone with new and delicious desserts and this is certainly going on the holiday table this year.  We spend Christmas day at my grandparents and this would also make the perfect dessert to bring because it travels so well!  You could take this to any holiday party this season because it makes a ton and is so easy to transport.
It uses store bought sugar cookie mix which makes life so much easier and you add the sprinkles because what is more festive than sprinkles?
I absolutely love this cheesecake topping, it is my go to topping for all sorts of things, cookie cups, these bars, trifles, a shoe, it is awesome on anything!
I mix up 2 batches of sugar cookie mix and spread it into a jelly roll pan.
Once baked and cooled I top it with my super delicious no bake cheesecake mix which is to die for!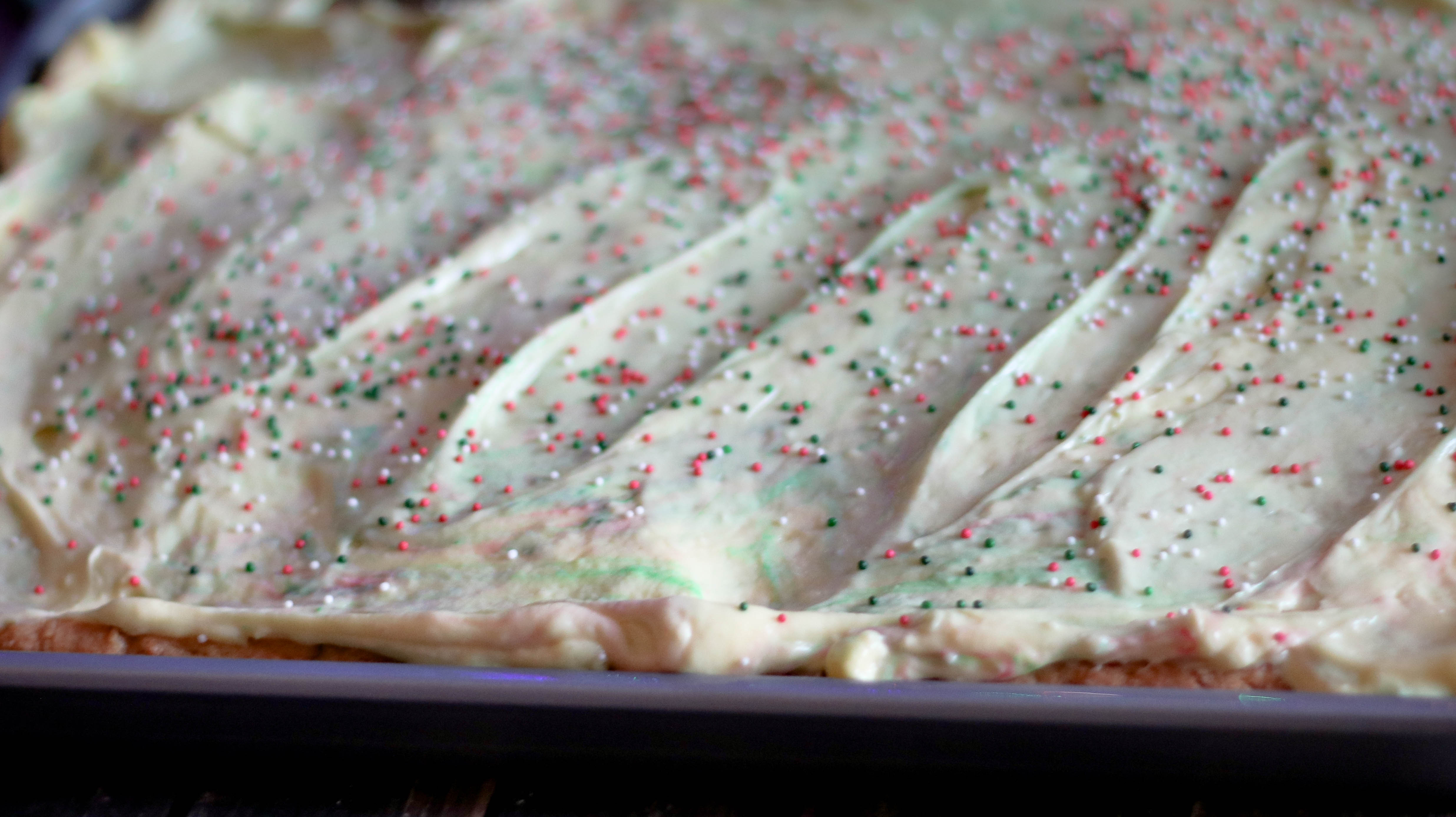 Sugar Cookie Cheesecake Bars
Ingredients
2 bags dry sugar cookie mix made according to bag directions.
Sprinkles
Two 8 oz blocks cream cheese softened
1 large box, 5 oz instant vanilla pudding
1 1/2 cups cold milk
Instructions
Preheat oven to 350 degrees.
Mix the sugar cookie mixes according to bag directions
Stir in about 3-4 tablespoons sprinkles (as many or little sprinkles as you want)
Spread dough out in greased jelly roll pan
Bake until bars are lightly golden and middle in baked through (around 20-25 minutes)
In a bowl whip the cream cheese with electric mixer
In separate bowl mix the instant vanilla pudding mix with the milk and chill 5 minutes until set
With electric mixer mix the cream cheese and pudding mixture together until smooth
With a spoon gently fold in some extra sprinkles
Spread the cheesecake mixture over the cooled sugar cookie bars
Sprinkles with more sprinkles
Slice and serve
A few more sprinkles on top give these bars all the holiday cheer they need.
I am in love with these bars, their simplicity, their deliciousness, they are just perfect!
Make them for your holiday get togethers this season or even leave out a few for Santa!