Snacking Superheroes for Disney Infinity Games
This shop has been compensated by Collective Bias, Inc. and its advertiser. All opinions are mine alone.
#InfinityHeroes #CollectiveBias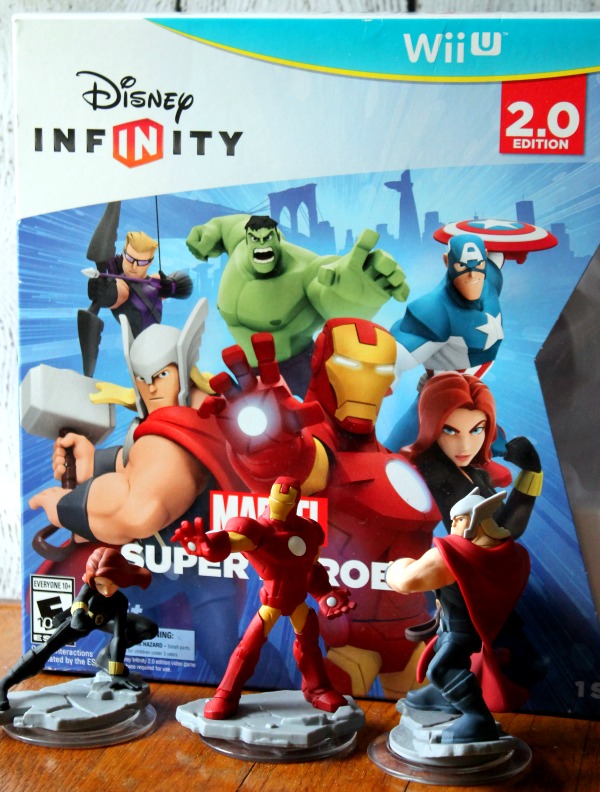 Hey yall!!!  So lemme tell you, around our house we love video games and being huge fan of Marvel Superheroes of course we were first in line to buy the new Disney Infinity 2.0 with all it's amazing Marvel characters.  My boys were super excited to go pick out their favorite superheroes to play.  We headed to Walmart and the boys had a blast and couldn't wait to get home to play!  We grabbed the Infinity 2.0 and picked up Captain America and Groot!
We absolutely love this new Infinity game.  The original with all the Disney movie characters is so much fun and one of our favorite games and I love how with the 2.0 we can now play as superheroes and battle our way through the bad guys.  I especially can't wait to pick up the Guardians of the Galaxy pack.
Our starter pack came with Black Widow, Iron Man and Thor and with each of them having their own unique powers makes choosing which character to be hard! Then again I can always switch out my character whenever I want, which Dean loves to do!
This is such a fabulous game and it makes for the perfect family game night.  Since we were having such a nice time playing it I decided to make some special snacks to go along with our game time.
We all are big fans of Groot and were so excited that we could collect him for the Infinity 2.0, so I decided to dip some pretzel rods into chocolate and make them look like Groot.  It was so simple to dip the rods in the melted chocolate and the messier the better since it mimics Groot's bark exterior.  I just piped on some arms, added a chocolate sprinkle mouth and 2 black sprinkle eyes.  Viola instant Groot and since they are handheld they make the perfect gaming snack.
Now since my husband is the biggest Captain America fan in the world I wanted to make a little Captain America snack too.  So simple to add a little food coloring to instant vanilla pudding, layer it and add in some red, white and blue marshmallow stars.  I stick in a star spangled straw and pop them in the freezer.  There ya have it, another easy to make, easy to eat snack perfect for grubbing while gaming.
Snacking Superheroes for Disney Infinity Games
Ingredients
2 small boxes instant vanilla pudding
milk
food coloring
red, white, blue star marshmallows
Instructions
Place 6 paper straws into 6 marshmallow straws and place each one in the bottom of a small paper cup.
Mix the 2 boxes of pudding with 4 cups cold milk and whisk till thickened.
Separate the pudding into 3 bowls and add a few drops of red into one bowl and a few drops of blue into another.
Layer the pudding into the cups.
Top with a few more marshmallows stars.
Freeze for 4-5 hours.
Peel off paper cups and serve!!!
So whip up these great treats for your hungry gamers while you're playing Disney Infinity 2.0!!
Not only is this game fun, and fun for the whole family, it is not too difficult for little ones to play too yet it is still perfectly challenging for everyone.  My boys really like going to store and picking out a new character to add to their collection and with new ones being released all the time it is so fun to pick and choose your next character!
I really think this is an amazing game to play as a family and we are totally addicted.  You should definitely pick it up for your family and now when you head to Walmart to gran one for yourself you receive a $10 Walmart Gift Card with purchase of a Starter Pack.  (Offer valid from 9/23 – 9/27.)
You can also head to Heroeseatmms.com for more superhero fun!!!
So go have a fun family game night with the Disney Infinity 2.0 and whip up some of these snacks to go along with it!!
Which character are you most excited to be?