Slow Cooker Honey Chipotle Chicken Tostadas
This is a sponsored post written by me on behalf of Hunt's® tomatoes.
Hey y'all!!  I am so glad it is getting chilly out!!  Fall and winter are my favorite seasons!  I love the crisp air and the chilly nights.  I even love the gray dreary days where all you want to do is curl up on the sofa with an old worn quilt and nap the day away.
These days call for pulling out the slow cooker.  I love using my slow cooker in the cold months.  It fills my house with the delicious smell of dinner all day and everything that comes out of it just so warming!
But your slow cooker can do more than soups and roasts, it can make the most amazing Honey Chipotle Chicken that is fabulous in so many things!!  I love it over rice, in tacos, on nachos, the possibilities are endless but today I am going to show you how I stack it on tostadas for the perfect dinner.
One thing I love most about this recipe is how I always have everything I need to make this delicious meal on hand.  A few pounds of chicken, some honey, chipotle and my favorite pantry staple Hunt's® tomatoes is all I need to whip up this family favorite.
I always choose Hunt's® tomatoes because not only are they delicious but instead of using chemicals to peel their tomatoes Hunt's® peels their tomatoes using FlashSteam which is just steam from hot water.  So I know there are no chemical by-products on my tomatoes.
Also I love that Hunt's® cans their diced, whole, stewed and crushed tomatoes within hours after harvest, so I know we are getting the freshest tomatoes, yum!  That is what makes this recipe so delicious!
I recently just discovered their organic line and I am in love!!  I always buy organic when it is available and I love that not only can I get my tomato sauce, paste and diced tomatoes in organic but it is from a brand I already love, trust and use.  Plus I can pick up this amazing organic line right in my regular grocery store.  I am hooked!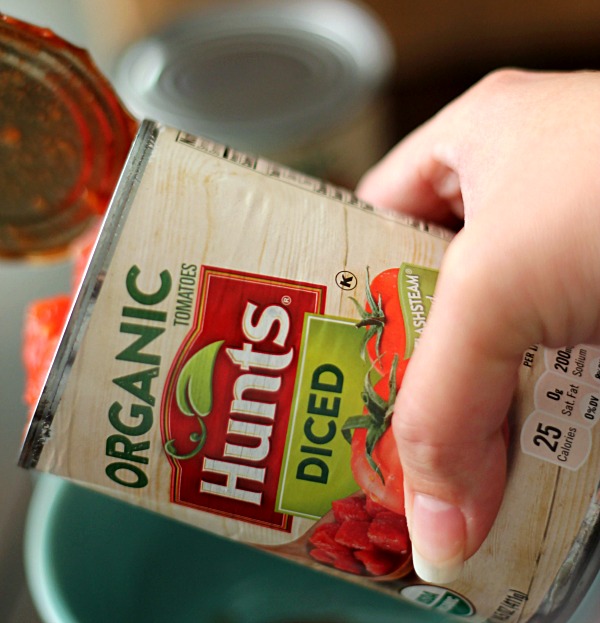 Now onto the super yummy recipe I promised you!
So the original recipe called for thighs and while I usually love cooking with thighs in the slow cooker today I had breasts on hand and they worked just as well!
Now for the easy part.  I just sprayed my slow cooker with Pam non-stick spray and put my frozen chicken breasts in.
Then I mixed 1 cup of Hunt's® Organic Diced Tomatoes with a quarter cup of the liquid and onions from a can of chipotles in adobo and a quarter cup of honey.  That's it!

Just pour that sauce over the chicken and you are done!  Cook it on low for 8 hours or high for 4 and bam the most flavorful chicken is ready!
I shred it up and place it between 2 tostadas and top it with melted cheese and a little sour cream and dinner is done!
My family cannot get enough of these and this recipe is my favorite for whenever I need a little spice in my weekly dinner.
This chicken is so versatile and thanks to a well stocked pantry and Hunt's tomatoes this dinner is never more than a few minutes and a slow cooker away!
For the original recipe just go HERE
Stay tuned for more delicious recipes using Hunt's® tomatoes!
 This is a sponsored post written by me on behalf of Hunt's® tomatoes.
* Lye peeling is generally recognized as safe by the FDA and has no adverse effects on the healthfulness of tomatoes.