Rise and Shine with Jimmy Dean Redbox
"This post is part of a social shopper marketing insight campaign with Pollinate Media Group™ and Jimmy Dean, but all my opinions are my own. #pmedia #RedboxBreakfast https://cmp.ly/3/8vNxcO."
Mornings around here can get crazy, nobody in this house is a morning person, including myself.
 However when we are all together on the weekend I want us to have a nice breakfast together but I seriously do not want to get up at the crack of dawn to fry bacon and then smell like it for the rest of the day.
So when I came across these Jimmy Dean Redbox Breakfast Sandwiches at Walmart I was super excited!!  All the goodness of a home cooked breakfast that can be ready in just minutes.  I was hooked!  I got the Sausage Egg, and Cheese Croissants and the Sausage, Egg and Cheese Muffins.  I also can't wait to try their Bacon, Egg and Cheese Biscuits and their Meatlover's Breakfast Bowls.
So Sunday morning rolled around and Dan and I had stayed up wayyy too late catching up on all our TV shows and managed to squeeze in a movie.  Bleary eyed and rumpled I remembered the breakfast sandwiches and I perked up.
Less than 2 minutes in the microwave and I was able to create a great breakfast for my family.  They came stumbling out of their bedrooms and were greeted with a hot breakfast on such a chilly weekend morning.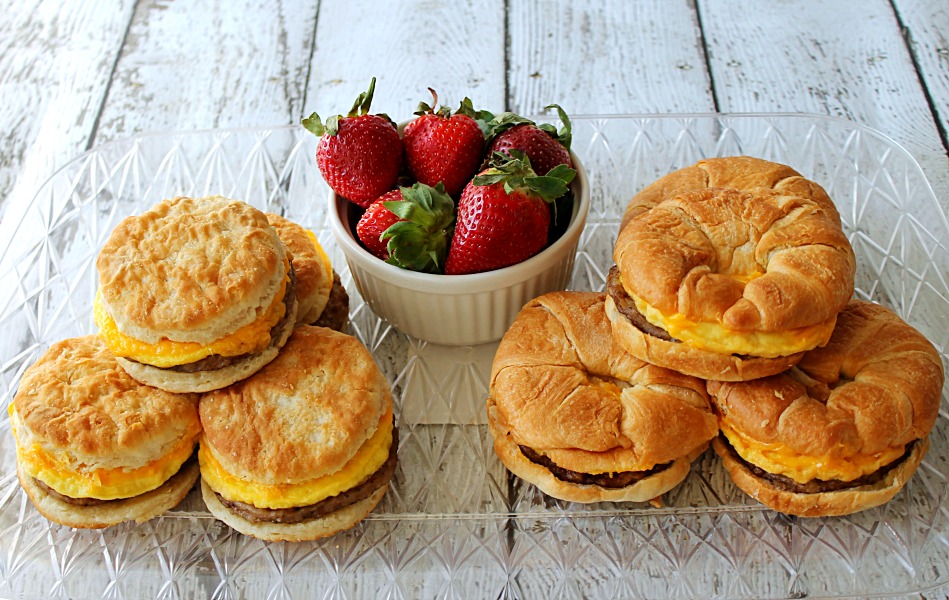 We all snuggled on the sofa to watch some cartoons and finally have a nice breakfast.  And what a nice breakfast it was, buttery croissants, fluffy eggs, melty cheese and savory sausage made for a perfect sandwich.
 The biscuits were just as good with a flaky biscuit like your grandma would make.  
We enjoyed these sandwiches so much that we now keep them on hand by picking them up anytime I'm at Walmart.  Anytime we need a quick and easy breakfast all we have to do is open the freezer and 2 minutes later breakfast is served!  How great is that?
You can check out all the breakfast yumminess by following Jimmy Dean on…
Which Jimmy Dean Redbox Breakfast are you going to try?