Peppermint Chocolate Cheesecake Cookie Cups
Hey guys!  I love the holidays!!!  I really love all the holiday entertaining and baking, it is my favorite!!  I host Christmas Eve at my house and I love to have platters of little different desserts instead of one or two big desserts.
I have a few go tos that I use every year but I also like to spice things up and make one or two new things each year.
Since one of my favorite holiday combos is peppermint and chocolate I decided to make my super easy and delicious  cheesecake cookie cups and put a peppermint twist on them.
They are amazing!!!  Of course everyone always loves the cheesecake cookie cups and this peppermint version went over just as well!
These little cups look amazing on a platter for the holidays and are soo easy to make but look like they took all day.
I just add a little cocoa powder to sugar cookie mix and press it into mini muffin tins.
Once baked I use a little shot glass to press an indention in the middle while they are still warm.  We are going to fill those little hollows with a delicious chocolate pudding cream cheese mixture, yum!
So after they are cooled and filled with the pudding mixture I just top them with a little crushed peppermint chocolate chips.  You can use crushed candy canes but I don't like all that crunchy lol.
See how simple they were to make?!  And look how pretty and festive they are!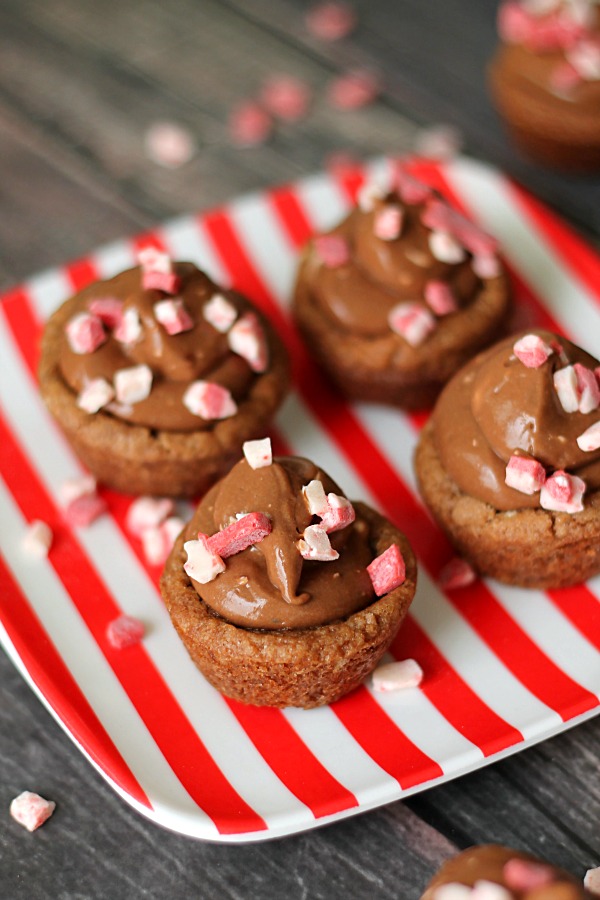 Give yourself a little break this holiday season and wow your guests without breaking a sweat in the kitchen with these Peppermint Chocolate Cheesecake Cookie Cups!
Peppermint Chocolate Cheesecake Cookie Cups
Ingredients
1 dry sugar cookie mix
1 egg
1 softened stick of margarine
¼ cup cocoa
8 oz block softened cream cheese
Large box instant chocolate pudding, 5.1 oz or so
1¾ cup cold milk
1 tsp peppermint extract
Crushed peppermint chips or candy
Instructions
Make cookie dough as directed on package with the egg and margarine, adding in the cocoa and a splash of milk if batter is too dry.
Roll dough into 32 (1-inch balls); place in greased muffin cups.
Press each ball in bottom and up side of muffin cup.
Bake at 350°F for 12 to 15 minutes.
Immediately press a shot glass into each cup to form a middle.
Cool 20 minutes.
Remove from pan; cool completely.
While cookie cups are cooling mix the filling.
Beat an 8 oz block of softened cream cheese in a mixer.
In separate bowl mix a large box of instant chocolate pudding with 1½ cups cold milk and the peppermint extract and mix till smooth and thickened.
Add pudding to cream cheese and blend.
Put cream cheese mixture into a ziploc bag and snip the end off and pipe filling into cups.
Garnish and serve!