One pan Bacon Spinach Pesto Mac & Cheese
This shop has been compensated by Collective Bias, Inc. and its advertiser. All opinions are mine alone. #DinnerOnDemand #CollectiveBias
Hey guys!!!  I have got an awesome recipe to share with you today!!!  Why is it awesome?  Because it is one pan!!  I love recipes like that, no muss, no fuss and just one pan to clean!
With my husband working nights there are a lot of times when it is just me for dinner and while it would be easy to just pull out something frozen sometimes I just want a warm quick meal.
One pan meals are so easy to make and are the perfect recipes for anyone just learning to cook, not a lot of different things going, just one pan or pot.
When someone is just starting out cooking you do not need to give them more than one pan to handle lol.  Everything in one pot is easier to start off with and keep an eye on lol.
When I was doing my weekly shopping at Walmart I was in the pasta aisle (of course lol) and spotted this new Barilla Pronto Pasta.  It is amazing pasta, One Pan. No Boil. No Drain.  Whaat?!?!  No more wrestling my drainer out from the cabinet!  Everything can just cook in one pan?  This pasta is a dream come true!  Plus they sell this at Walmart where I always am anyways!
I love Barilla Pasta so I am super happy to find this Pronto Penne Pasta.  Barilla has always been an authentic Italian food brand, that brings high quality taste to the table and I love how perfectly all their delicious sauces are the perfect match to their perfectly made pasta!
Plus Barilla is a brand I trust to give me great tasting, high quality products that are of course delicious!  I would only trust Barilla to new cooks because you know they are going to be able to create something delicious with their products every time!
I am still in shock with this pasta.   It is a fabulous time saver in the kitchen and of course the best pasta for all these ultra popular one pan dinners!
Okay so now it is time for my super awesome recipe!  This recipe does not require a lot of steps or ingredients so it is perfect for a new cook.  It also is full of everyone's favorites…bacon, cheese and pasta!
So let's get started!
In your pan crisp up some chopped bacon.
Remove the bacon from the pan and most of the grease.
Add in a little garlic and some fresh spinach.  Wilt
Now comes the pasta, pesto and milk.
Let that boil and the noodles get tender.
Next comes the best part, cheese!!!
Stir all that together with that bacon, yum!!
Now this part is optional but if you like a crunchy topping to your mac & cheese you will want to mix some panko bread crumbs with a little grated cheese and sprinkle that over the top and pop under a broiler for just a quick minute or two just to get it toasty.
Perfection!
Now with a side salad this is the perfect dinner but if you wanted to make it a little heartier you can add in some chicken.
One pan Bacon Spinach Pesto Mac & Cheese
One pan Bacon Spinach Pesto Mac & Cheese Author: Parrish
Ingredients
Half a pound of bacon chopped
2 cloves garlic minced
2 cups washed baby spinach
2 cups Barilla Pronto Pasta Penne
2 1/2 cups milk
3 tablespoons Barilla Pesto
1 3/4 cups Italian Blend Shredded Cheese
1/4 cup panko bread crumbs
1/4 grated Parmesan cheese
1/2 teaspoon salt
1/2 teaspoon pepper
Instructions
In a skillet brown the chopped bacon.
Remove cooked bacon and most of the drippings.
Into the skillet add the garlic and spinach and cook until spinach is wilted.
Add into the pan the penne, milk, salt, pepper and pesto.
Bring to boil and turn down to a simmer letting the pasta get tender and milk absorbed.
Next stir in almost all the cheese, yum!
Stir in the bacon.
Top with remaining cheese.
Mix the panko and bread crumb and sprinkle on top.
Pop under the broiler for maybe 3 minutes, just till the topping gets toasty.
Serve!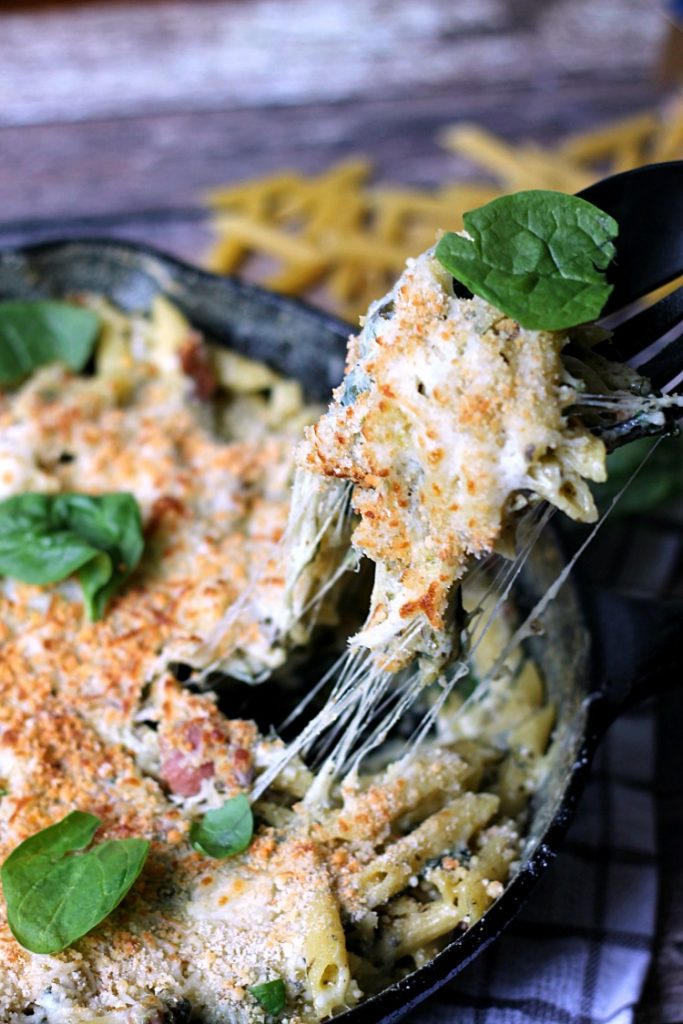 Look how easy that was!!  It is a simple to prepare meal with lots of flavor.  It is a great dish to teach a new cook since it is easy, one pan but still a great delicious dish that can even wow their guests!  Barilla Pronto Pasta gets dinner on the table fast and is a recipe for confidence in new cooks!
So don't forget to grab yours at Walmart and get started on some tasty one pan creations with Barilla Pronto Pasta!
Category of Win: Best Food & Beverage Products

Specific Winning Product: Barilla Pronto Pasta
Specific Year of Win: 2016
Based on the 2016 BrandSpark/Better Homes and Gardens American Shopper Study of 38,000 voters nationwide. For more information visit www.BestNewProductAwards.com