No Bake S'mores Cheesecake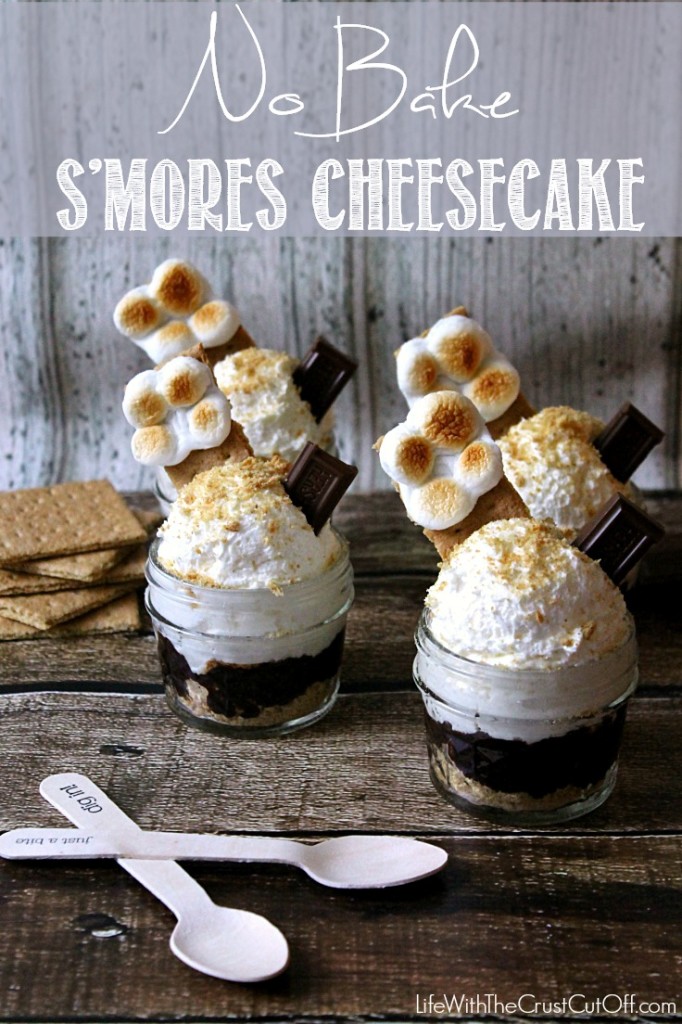 Woo it is a scorcher today!  Me and the heat do not get along.  I am one miserable person in the summer.  I do not want to do anything to put any heat in the house, but that doesn't mean I want to miss out on any yummy desserts!
So when the temperature starts rising I start gathering up No Bake recipes.  I love No Bake recipes because they require no heat and are always usually very quick to make.
One of the big flavors during the summer is S'mores, S'mores are everywhere and we have been over the fact that while I love the flavor combo of S'mores I do not like traditional messy S'mores.  You know what else I like?  Cheesecake!  So why not put it all together and make some killer No Bake S'mores Cheesecakes!
These little jars are brimming with S'mores flavor, all wrapped up in a smooth creamy marshmallow cheesecake with chocolate fudge, crumbly graham crackers and all topped off with toasted marshmallow (ok ok I did turn on my oven to toast the marshmallows but it took seconds!)
These S'mores Cheesecake are awesome, they are cool and creamy, and I love serving them in the little jars because I can always grab one out of the fridge for a late night snack and be good to go!
The filling is just cream cheese, marshmallow fluff and cool whip.
Layer that on top of crushed graham crackers topped with hot fudge.
Then I like the top the whole thing off with a graham cracker topped with toasted marshmallows.
Heaven in a jar people…heaven in a jar.
No Bake S'mores Cheesecake
Ingredients
Container Marshmallow fluff
3/4 cup milk
2 – 8-oz. packages of cream cheese, softened
12- oz. container of Cool Whip
2 cups crushed graham crackers
hot fudge
mini marshmallows
Instructions
Beat the cream cheese, milk and fluff until combined.
Gentle fold in the cool whip.
In a mason jar add a little of the crushed graham crackers to the bottom.
Drizzle on some hot fudge.
Then spoon on some cheesecake mixture.
You can sprinkles some graham crumbs over the top and garnish with a chocolate square
Place some mini marshmallows on a square of graham cracker and toast under broiler until golden brown.
Place on top of jar and serve!
Want smore S'mores recipes (haha) check out my other recipes —>
Follow me on Pinterest for more yummy recipes!!
Visit Life With The Crust Cut Off's profile on Pinterest. Linked at: