No Bake Sherbet Cheesecake Bars
This shop has been compensated by Collective Bias, Inc. and its advertiser. All opinions are mine alone. #FireUpTheGrill #CollectiveBias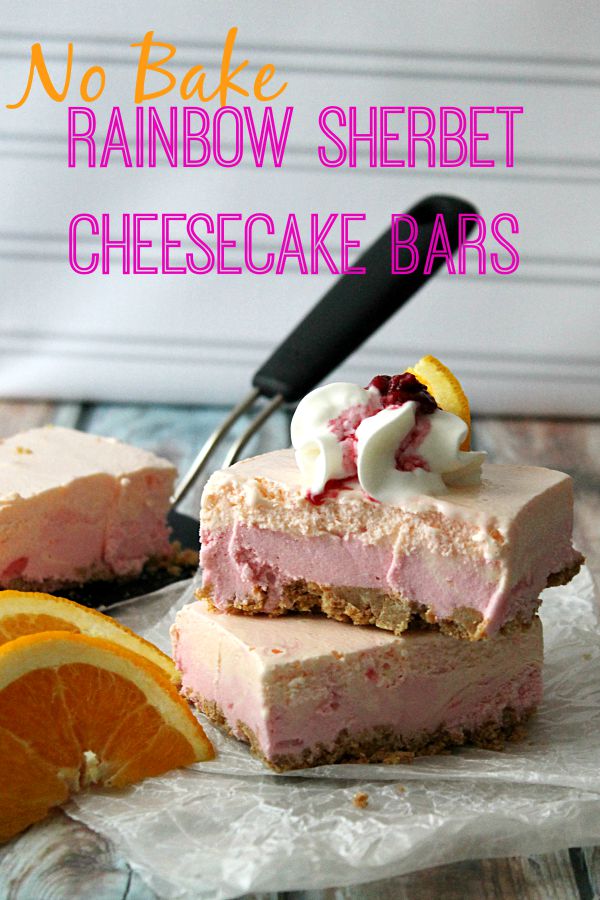 Hey guys!!  Ahh summer is in full swing! Right now you are probably in the midst of all the bbqs, cookouts and potlucks that summer brings!
Of course when that invite comes to go to a pool party or your friend's to grill out you need to bring something.  I always like to bring a dessert (dessert is always a safe bet!)
Everyone loves cool and creamy desserts after a hot summer day and these are just the kind of recipes I love to make!
So this weekend we were headed to my grandparents for a pool party/cook out and I was in charge of dessert (score!)
I went to Walmart to do my weekly shopping and pick up somethings to make a killer dessert.  I knew I wanted to make my No Bake Sherbet Cheesecake Bars but I wanted to add a little twist.
The main components of this No Bake Cheesecake are Kraft Philadelphia Cream Cheese, Kraft Jet-Puffed Marshmallow Creme, and Cool-Whip.  You also need sherbet for to complete this delicious cheesecake!
I gathered up all my ingredients and went to get my produce.  That was when I noticed the luscious raspberries and juicy oranges and I knew they would make the perfect garnishes for these bars!
I love this recipe because it comes together so quick and it's no bake! My favorite kind of dessert.
First you just crush the graham crackers and mix them with melted butter and press into the bottom of a 9×13 and pop in the freezer to firm up.
Next whip up the cream cheese and marshmallow fluff.  Then fold in the Cool-Whip.
I split this mixture in 2 and add orange sherbet to one and raspberry sherbet to the other, yum!
Next I pour the orange mixture over the graham cracker crust.  Then I swirl in the raspberry.
Now it just needs to set up in the freezer for at least 4 hours.
When you are ready to serve I just cut it into squares and top each bar with a little Cool-Whip and garnish with a raspberry and an orange slice.
There you have it, the most perfect, easy, no bake dessert that just screams summer!
No Bake Sherbet Cheesecake Bars
Ingredients
1 8 oz block Philadelphia cream cheese softened
1 jar Jet Puffed Marshmallow Fluff
1 tub Cool Whip
1 cup raspberry sherbet
1 cup orange sherbet
1 sleeve graham crackers
4 Tablespoons butter
Whipped cream, orange slices and berries for garnishing
Instructions
Crush up the graham crackers and mix with 4 Tablespoons melted butter
Press into the bottom of a 9x13 or 2x2 quart dish.
Place in freezer
In a mixing bowl beat the cream cheese and marshmallow fluff together.
Fold in the Cool Whip.
Divide mixture in half.
Mix the raspberry sherbet in one half and the orange sherbet in the other.
Pour the raspberry mixture over the crust.
Then pour the orange mixture over the crust.
Swirl your knife through to swirl the two layers together.
Freeze for 4 hours at least.
Cut into bars.
Serve with a dollop of Cool Whip, a slice of orange and some macerated berries. Yum!
So next time you are headed to a summer gathering whip this up and really wow your friends with this luscious creamy dessert that really hits the spot on a warm summer night.
But don't just wait for a party to make this amazing dessert, you can grill up a great dinner at home and have this as a wonderful dessert after dinner.
I love grilling up burgers for dinner and serving it alongside Walmart Marketside Potato Salad, and of course don't forget the Sweet Tea!  This is one of my go to meals in the summer.  Delicious grilled burgers, fabulous potato salad and of course those No Bake Sherbet Cheesecake Bars to finish off an easy and perfect summer meal!
For more summertime ideas you can check out the Kraft Digital Cookbook for some yummy inspiration!
What are some of your favorite summer desserts?