Jif Bars for on the go snacking!
Hey guys!!  Whew Dean just started school this year and our new schedule is crazy and I'm 7 months pregnant on top that crazy schedule!
By the time we hit the carpool lane after school we have got one hungry pregnant lady and a hangry kindergartner!  That is why when I saw these Jif Bars in store I knew they would be perfect for those afternoon slumps!
These Jif Bars are delicious so packed with that creamy, fresh roasted Jif flavor we all already love but now layered with chewy, crunchy granola to to create a truly satisfying snack!  Each bar has about 7-8g of protein which keeps us full till dinner.
I love to keep some Crunchy Peanut Butter Bars in my purse for a little snack anytime I am on the go and a craving hits!
Dean loves it when I pack a Peanut Butter Chocolate Bar in his lunch.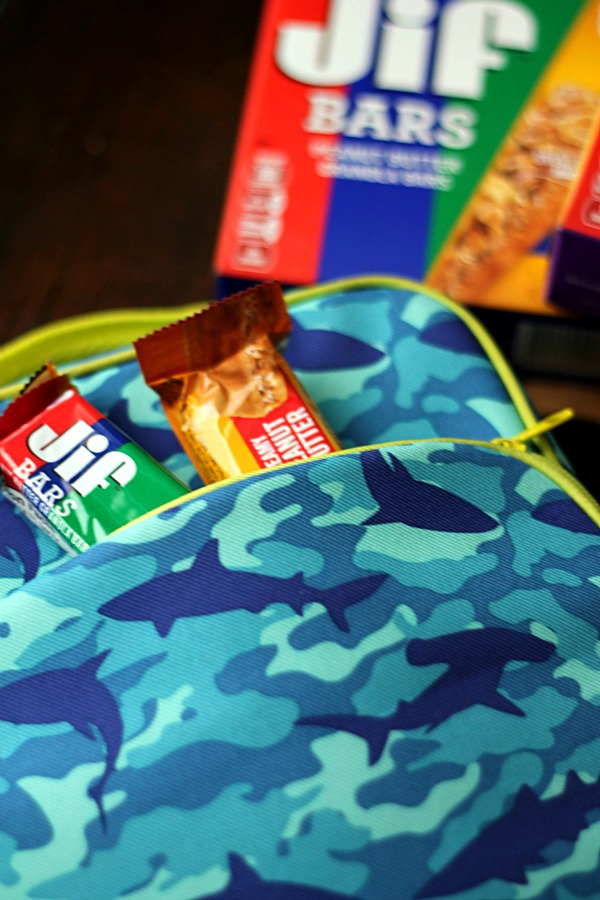 My husband always makes sure to stock up on the Creamy Peanut Butter Bars before he heads out to work.
I am so glad I found these because they are such a big hit with my on the go family.  You too can pick up your favorite flavor at your grocery store!
The great combo of creamy Jif peanut butter mixed with crunchy granola is a such crowd pleaser and you can pick up all three flavors and get the crunch of peanuts or the classic combo of chocolate and peanut butter, yum!!!
I love easy on the go snacks that are filling and super portable and these Jif Bars fit the bill!!  They are so easy to grab when you're heading out the door, they are also great just to keep on hand and grab whenever you get a little snackish!
These have quickly become a favorite in my house (I mean who doesn't love peanut butter?!?) and of course anything that fills up my hungry boys and tides them over till dinner is a winner in my book!
Speaking of winner how would you like to win a chance to try these for yourself? I will selecting 5 lucky winners to each win all 3 flavors of these amazing Jif Bars so you taste how delicious they are yourself!!
So of course you wanna win right?  Just comment below with your favorite on the go snack for your chance!
Hope you win so you get to have some awesome Jif Bars next time you're on the go!
I was selected for this opportunity as a member of Clever Girls and the content and opinions expressed here are all my own.