This is a sponsored post written by me on behalf of Iams. All opinions are 100% mine.
Hey guys!!  I am here to update you on how Harvey is doing on his switch to Iams quality dog food.  We love it!!  Well he loves it lol!  Harvey has always been a slow eater, he just never seemed to like any food we gave him.  He would eat it but it never seemed he liked it.  Normally he would take a mouthful of food, walk over to the rug, drop it out of his mouth and sit there and nibble on it while eyeing our dinner plates.  I would fill up his bowl and it would be maybe halfway empty the next morning.
No matter what we tried he just was not feeling dog food.  I was hoping when we started this Iams challenge that he would at least eat enough everyday to make a difference.  So the first day I poured some in his bowl and went about my business.  A few hours later I went back into the kitchen and his bowl was empty!!  I was shocked!!  I figured maybe it was just that it was a new food and he would go back to his picky ways soon enough, but day after day he empties his bowl and actually seems to enjoy his food!!
We are so happy we have found something he actually likes!!!  But how is it treating him? Well Harvey has always been a bit of mess, he has skin problems up the wazoo and we have tried everything from shampoos, oils, medicines, you name it we've tried it and every summer without fail he gets the itchies and chews his back bald.  However, since being on Iams that has changed, he started itching less and less and his hair started to grow back.  We were shocked, I knew it advertised it could improve his coat but I figured his skin issues were untouchable at this point.  Again we were stunned at how well he has been doing on Iams!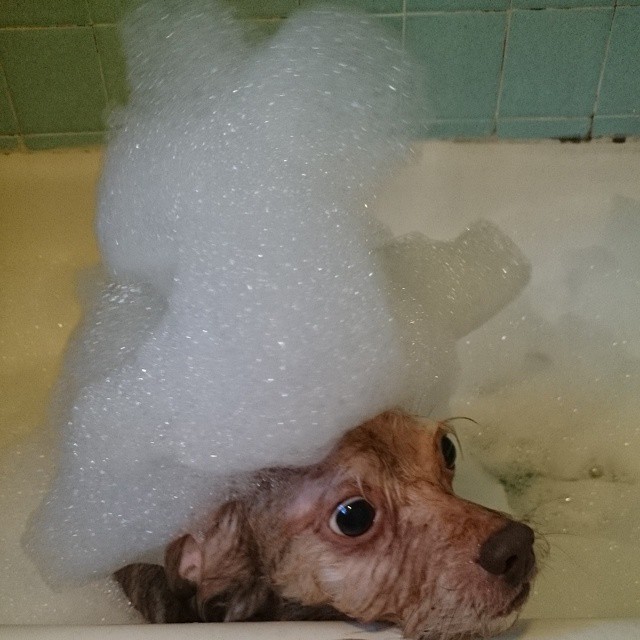 Harvey used to love to play and go on car rides but since getting older he has just been wanting to sleep in his bed most of the day.  No more late night adventures with us to the ice cream store or romps in the living room.
Now while he still is quite content to spend most of his day in his bed I can see a bit of that old sparkle in his eye.  He is more up to playing gently with the boys in the living room and has even had enough enough to go on a late night run to get this preggo mama some ice cream.  While these seem like little adventures to some, they are big in Harvey's world.
I am so glad that Iams is improving his quality life and I just wish I had started him on it sooner!  It really has done wonders for him!!
So I truly recommend you take the Iams Visible Differences challenge and see what a difference it can make in your best friend!
What are some of you and your dogs favorite adventures?