Frozen~How Fresh Stays Fresh~
This is a Sponsored post written by me on behalf of American Frozen Foods Institute and the Frozen Food Roundtable. All opinions are 100% mine.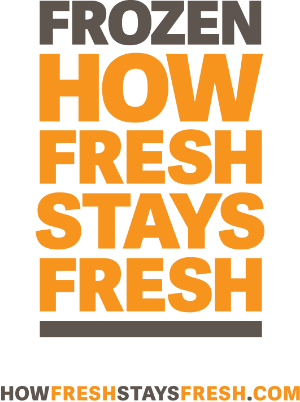 Hey yall!!  Today I want to share with you a little bit about how I use some delicious frozen foods to help through some crazy days when I don't have a minute to myself and talk to you all about fresh vs frozen and the benefits of frozen foods in this post… Frozen. How Fresh Stays Fresh.
So as a mom of a crazy 4 year old and trying to work from home I rarely have a minute to myself and often rely on my freezer to help me get through some tough days.  Frozen foods have come a long way and are a great option when you need a quick meal that is easy to prepare and can fit any lifestyle or palate that you can prepare without sacrificing any taste or nutrition.
Plus frozen food is so fresh!  Freezing naturally pauses amazing recipes made with fresh quality ingredients and suspends them there until just the moment you are ready to enjoy them, locking in all their yummy flavor, freshness and nutrients.  And frozen food is made from real ingredients from real recipes, freezing is just a natural pause button that keeps just picked, just baked and just crafted foods at the peak of freshness!
I love using frozen meals and they are so easy to customize by doing simple things like tossing your favorite frozen vegetables in with your chicken and rice or sprinkle some breadcrumbs over your mac and cheese after cooking.  Simple ideas to make your meal your own.
I also love how frozen food makes counting calories so easy, clear serving sizes and complete nutritional information makes cooking a perfectly portioned meal a breeze.
So in the morning when I am short on time but big on the need to get breakfast on the table I reach for the freezer where I can pop some Toaster Strudels in the toaster.  In minutes I have a flaky, warm, toasty pastry with a sweet warm filling all drizzled with a creamy icing.
If I am in the mood for something a little more savory I am just minutes away from a Jimmy Dean Sausage, Egg and Cheese Croissant Sandwich.  Real egg, real cheese, savory sausage all on a buttery croissant makes for an amazing breakfast that I can have in minutes.
For lunch I love to have something I can just whip together in minutes when hunger strikes and I am in love with these Celeste Pizza for One especially the White Pizza.  Zesty sauce, gooey cheese and a crispy crust come straight from the microwave making lunch a snap.
When I want a lighter lunch I grab Smart Ones Chicken Strips and Fries.  Perfectly portioned, low in a calories and crispy right out of the microwave make this the perfect lunch and it goes from freezer to my plate in less than 5 minutes!!  You can't beat that!!
So stock your freezer with some of these quick meals and you will always just be minutes away from a fresh meal.