Cranberry Pepper Jelly Turkey Club
"Sponsored post by Mirum. All opinions are my own."
Hey guys!  School is back in session and that means we all fall back in routine.  That also means we can fall into a dinner rut, spaghetti, chicken, tacos, repeat.
Now that the weather is cooler I start craving some fall flavors like pumpkin of course and cranberry.
I decided to switch things up one night a week, try something new, make something crazy, serve something dare I say… strange.
Sandwiches are always a big hit in my household, I have boys and sandwiches are basically a food group around here so when I saw Dale Earnhardt Jr.'s Hellmann's® Turkey Nacho Crunch Strangewich I decided I wanted to try my own Strangewich.
A Strangewich is a sandwich that has a few unexpected elements or combos.  Don't let the name scare you, these Strangewiches are delicious!!
I picked up a few ingredients while I was shopping at Walmart to make my Strangewiches like Hellmann's Mayonnaise – because I mean is it really even a sandwich without the Hellmann's mayo??  Hellmann's is such a staple in all my family's homes.  We use for deviled eggs, potato salads, secret ingredient to make moist cakes and of course sandwiches!  It has such a classic creamy taste that makes it perfect in everything we use it in.
Being fall I decided to make a turkey sandwich with cranberry sauce, but I wanted to amp it up, make it spectacular with a secret ingredient.  Hellmann's is a very southern staple, and another southern delicacy we love around here is pepper jelly.  Put cranberry sauce, pepper jelly and mayo together and you have one amazing spread for a sandwich or Strangewich!
Turkey, cheese, lettuce, bacon and this incredible spread are all you need to make a sandwich sure to blow everyone away with it's flavor!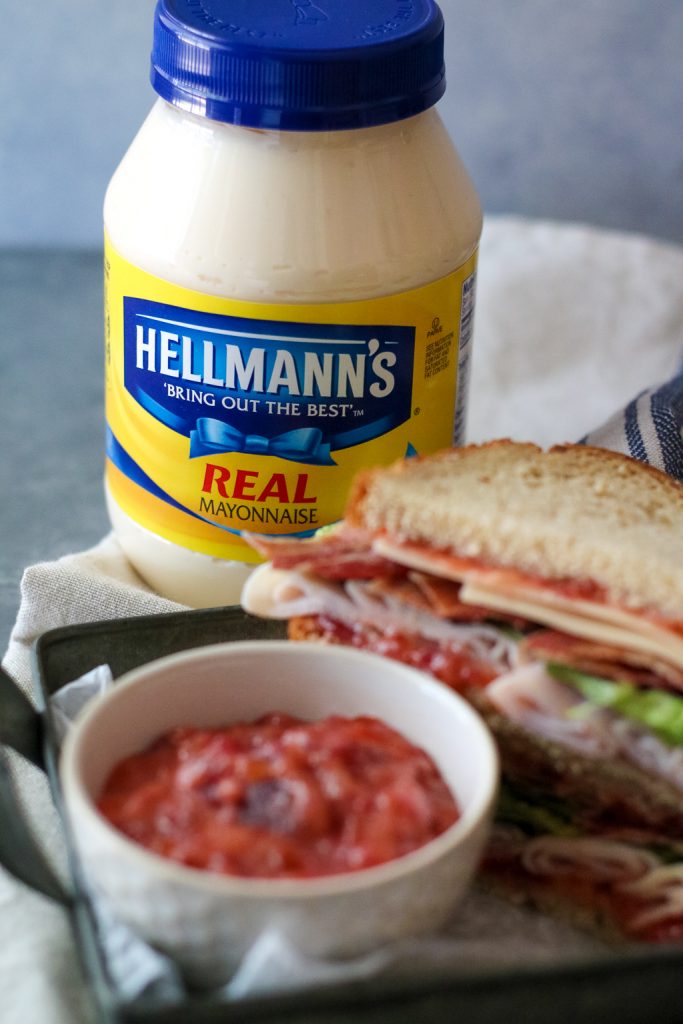 My family loved them and despite the name Strangewich, didn't find them strange at all, just delicious!!  They are a new a favorite around here and they ask for them all the time!
Cranberry Pepper Jelly Turkey Club
Ingredients
2 slices thick sandwich bread, I used oatmeal
2 tablespoons Hellmann's Mayo
2 tablespoons cranberry sauce
3 tablespoons red pepper jelly
Turkey
Bacon
Lettuce
Any cheese you like, I used swiss
Instructions
Mix the mayo, cranberry sauce and pepper jelly
Spread the mixture on both slices of your bread.
Add the lettuce, bacon, cheese and turkey
Slice and enjoy
I hope you try these delicious recipes or come up with your own Strangewich and let me know what secret ingredient you used!
Oh and right now since it is tailgating time you can dial **Hellmann's to hear a personal message from Dale Earnhardt Jr. and Kelly Earnhardt about their tailgating secret ingredients.
Check out this VIDEO for more great inspiration!
So head to Walmart and grab a jar of Hellmann's and start creating something delicious!