Hi there! It's Leia from Eat It & Say Yum.
I'm excited to be back this month to share another yummy recipe with you all.
In honor of football season, and my love for appetizers, I am sharing my recipe for Cowboy Caviar.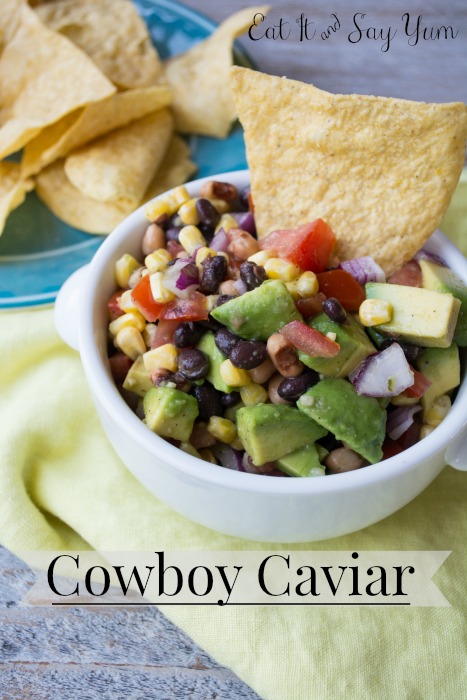 This dip/ salsa (whatever you want to call it) is totally delicious.
It's full of fresh foods that don't weigh you down like so many other party foods. I know summer is winding down, but you can still get the ingredients year round.
I love to eat this with tortilla chips, but I also use it on taco salads. I would even go as far as to put it on burgers as well.
You really can't go wrong with this lite and healthy option, however you choose to eat it.
Ingredients
4 ripe avocados, diced
2-3 tomatoes- diced
2 cups frozen corn
1 can black beans- drained and rinsed
1 cam black eyed peas- drained and rinsed
2 cloves garlic- minced
1 red onion- diced
optional: 1/4 cup chopped cilantro
Dressing:
1 Tbs sugar
2 Tbs canola oil (or vegetable oil)
2 Tbs vinegar (I use white, but you could use other kinds for a little different flavor)
juice from 1 lime
1/4 tsp pepper
1/4 tsp salt
1/4 tsp cumin
Directions
Mix all dressing ingredients together in a small bowl. Set aside.
In a large mixing bowl add all the diced produce, drained and rinsed beans, frozen corn, and garlic. Gently stir together, then pour dressing over top and toss again. Place the bowl in the fridge for at least an hour, then serve chilled or at room temperature.
Eat with tortilla chips, on taco salad, etc. Enjoy!