Comforting Corn Casserole
This is a sponsored post for National Canned Food Month. All opinions are 100% mine.
Hey!!! It's fall y'all!!!  I am bringing you another great recipe you can make out of your Cantry with the Cans Get You Cooking campaign!  Remember how we talked about how great it is to have a stocked Cantry?  Canned foods are an amazing help in creating quick meals and in helping with always having basic ingredients on hand to help make any meal.
I love having canned foods on hand because not only do they make meal prep and planning easier but fruits and veggies are harvested and canned within hours thus locking in all their yummy goodness and nutrition.  So that is why I always make sure to have a fully stocked Cantry so a delicious meal or treat is never out of reach!  I love sharing these easy recipes with you that you can make right out of your Cantry!!
Speaking of Cantry, I wanna talk a little bit about Cantry Thursdays. So we figure by around Thursdays your produce has probably seen it's last days and ideas might be running low which makes Cantry Thursdays a perfect way to figure out dinner that night. By keeping a well stocked Cantry you will always have plenty of yummy ingredients to make a spectacular meal for your family.
The holidays are quickly approaching and that means potluck and parties and holiday dinners and I am going to share with you an amazing dish that everyone loves and uses things from your Cantry!
We talked earlier about how great canned veggies are and we are going to put 2 of those in this fabulous dish!
My Comforting Corn Casserole comes together in minutes and is a crowdpleaser!  You just need a little butter, cream cheese, cornbread mix and of course everyone's pantry staple canned corn and creamed corn!
That is all you need to make this amazing dish!  I love cornbread and I love corn pudding especially around the holidays and this dish combines both of `those favorites into one flavorful dish!
This is really just a mix and a dump recipe, then bake.  Could not be simpler!
Comforting Corn Casserole
Ingredients
2 Boxes Jiffy Cornbread Mix
8 oz block of cream cheese softened
Stick of butter
Can of Cream Corn
Can of Regular Corn, not drained
Instructions
Place the cream cheese and butter in a microwave safe bowl and microwave 1 minute or until butter is melted.
Whisk together till most of the lumps are gone.
Add in the 2 boxes of cornbread mix.
Stir in the 2 cans of corn un-drained.
Pour batter into a greased 9x13 baking dish.
Place into a preheated 350 degree oven and bake for 45 minutes until golden.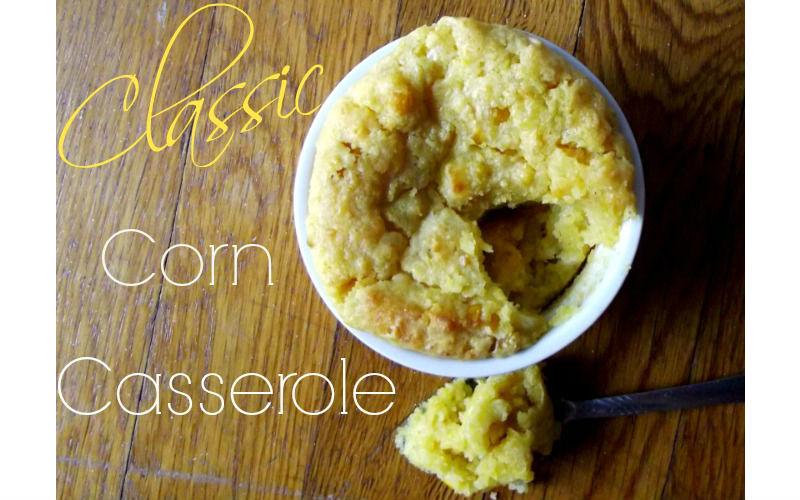 The taste and texture is phenomenal and will have you coming back for just one more bite.  Even the smell while it is baking is enough to make you drool.
I know I will have to double this recipe for holidays and even then I am pretty sure the pans will be scraped clean.
This dish is perfect warm or room temperature which makes it perfect for Thanksgiving because it requires no re-heating so can be made earlier in the day.
I promise you this Classic Corn Casserole will be a hit at your dinner table this holiday season!
I love that I can whip this up anytime I need a holiday dish thanks to my Cantry!!!  There are so many useful Cantry items we use during the holidays, veggies, cranberry sauce, pumpkin, so be sure to stock up!!!
What is your favorite holiday Cantry item?