Bahama Breeze is your summer destination for good times!
This is a Sponsored post written by me on behalf of Bahama Breeze. All opinions are 100% mine.
Woo we had such a great time at Bahama Breeze Summer Beach Bash!!  I rarely get out of the house to go have a good time but I could not pass up the chance to go to the Summer Beach Bash at Bahama Breeze! This is a brand new event that has live music, new cocktails like the Ultimate Pineapple which is served in a fresh cut pineapple and is amazingly delicious!  Saturdays are when they have the live music and mojito bar where you choose your own fruit, rum and watch it be muddled into the perfect mojito for you. They also had cornhole and lots of fun outside.  We had a blast.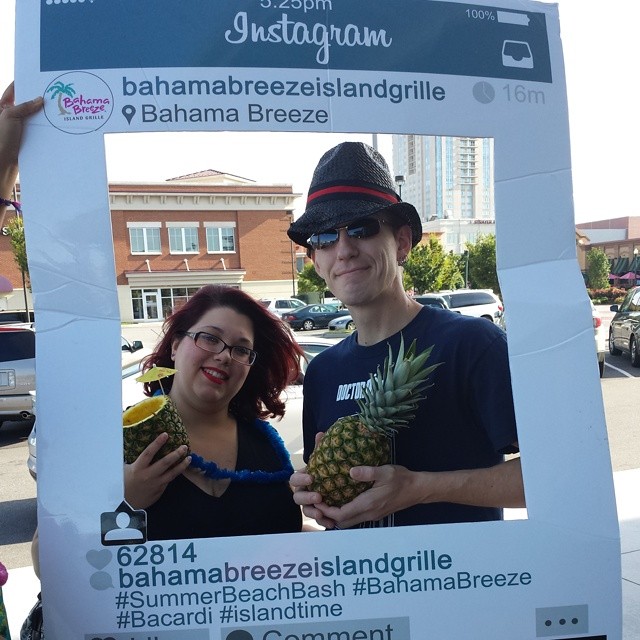 I went with my husband and our friends and had a great time. We all ordered their Bahama Breeze Ultimate Pineapple and oh my goodness that drink is delicious!  It was served in a whole fresh pineapple and had sorbet in it and of course rum and man oh man it was tasty.
The food was phenomenal!!  We got cheesy artichoke dip and firecracker shrimp for appetizers which were amazing!
And for dinner the boys ordered Applewood Bacon and Cheddar Burgers, outstanding and served with perfect fries. Taylor had the Grilled Chicken and Tropical Fruit over Mixed Greens Salad which was full of tender chicken, fresh pineapple, grapes, strawberries and mandarin oranges topped with goat cheese crumbles and candied almonds, yum!!  I had the Pork Carnitas Street Tacos and they were amazing!!  Slow cooked pork with black bean and corn salsa all topped off with cilantro crema was absolute heaven!
And of course you can't end the meal without one of their amazing desserts and we ordered with Key Lime Pie which was plenty to share and was incredibly luscious and the perfect way to end a spectacular meal!
You too can enjoy the Bahama Breeze Summer Beach Bash when you visit your local Bahama Breeze 06/23-08/03.  Don't forget to go on a Saturday so you can experience the live music and mojito bar!
Bahama Breeze is the summer destination for fun times and with the new Summer Beach Bash I know why!  It is the perfect place to go to relax, drink a topical drink while listening to some great live music with your friends and have a perfectly island summer experience.
Who doesn't like taking selfies when you're out with your friends?  Well now you can enter those the #MyBBSelfie Instagram contest to win #BahamaBreeze gift cards!  When you are living it up at the Summer Beach Bash just snap a selfie and hashtag it #MyBBSelfie for your chance to win  a $25 Bahama Breeze Gift Card.
Annnd I have even better news for you!!  Right now you can comment below and be entered to win a large Bahama Breeze T-shirt and a $50 Bahama Breeze Gift Card that I'm giving away!  So comment below and tell me do you plan on heading to Bahama Breeze for their Summer Beach Bash?