It is so cold lately!!  You know what?  I love it!!  I am probably one of the few people who wait for winter to roll around.  I love the cold air, I love the thick quilts, I love the fuzzy socks, I love the crisp mornings,  I love it all!  Most of all I love the cold weather because it means I get to sit next to a frosty window and drink a big steamy mug of tea.
I love tea, it is my preferred hot drink.  I really love Chai Tea and my absolute favorite is English Breakfast Tea.  Now when I want a nice warm mug of tea to wrap my chilled hands around I always pick Bigelow Tea.  That is my brand, they have so many flavors and bottom line their tea just tastes the best!
Not only is their tea excellent but I really like that Bigelow Tea is a just a great American company, family owned for 3 generations.  I love that their tea is a quality tea and it stays fresh in these little foil packets they package their tea bags in.  The foil packets also make the tea bags really portable.
The other day I bundled up and went out to Walmart to do my shopping and of course I was spending way too much time on the tea aisle looking for just the right tea to warm me up.  I spotted Bigelow's Vanilla Chai Tea and it sounded so yummy, almost like dessert.  That got my brain going and I knew that after Dean went to bed that night I was going to curl up on the sofa with a warm blanket, good book and a Vanilla Chai Mug Cake.  I was was even happier to discover that there were bonus packs with 4 extra tea bags at my Walmart!
I love mug cakes!  They are such a great way to make a warm, little sweet treat in minutes.  This Vanilla Chai Mug Cake is amazing, it smells wonderful from all the fragrant Chai spices and that comforting vanilla in the mix just makes this the ultimate quick dessert.
Just microwave the milk for 30 seconds and let the Vanilla Chai Tea Bag steep while you prepare the other ingredients.
Remove tea bag, add the rest of the ingredients, mix and add to your favorite mug.
Microwave for 1 minute 15 seconds and voila!  An absolutely delicious dessert!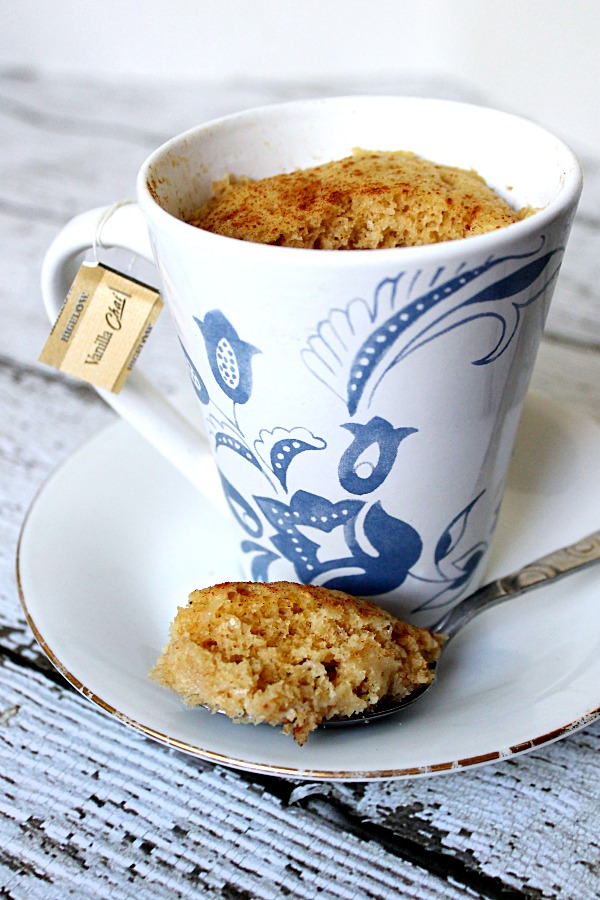 Vanilla Chai Mug Cake
Ingredients
2 tbsp flour
1.5 tbsp sugar
1/4 tsp baking powder
1/8 tsp salt
2 tbsp milk
3/4 tbsp oil
1/4 tsp vanilla extract
Bigelow Vanilla Chai Tea Bag
Instructions
In a microwave safe measuring cup microwave the milk for 30 seconds.
Place the tea bag in the warm milk to seep while you prepare the other ingredients.
Mix the dry ingredients together.
Remove tea bag from milk (I give it a few dunks to really get some tea flavor out)
Add the rest of the ingredients to the milk.
Lightly spray your mug with cooking spray.
Pour cake mixture into mug.
Microwave 1 minute 15 seconds.
Sprinkle with a little cinnamon and enjoy!!
Notes
You can add a sprinkle of the dry tea mix to the cake batter to really bump up the chai flavor!
So next time the chilly air gets to you and you are looking for a way to warm up try this Vanilla Chai Mug Cake or just fix yourself a big mug of any Bigelow tea, you will get toasty in no time!
What is your favorite flavor of tea?
Want more great stories and Bigelow Tea recipes and inspiration?  Visit this Pinterest board for tons of great ideas!!!