This shop has been compensated by Collective Bias, Inc. and its advertiser. All opinions are mine alone. #LetsMakeSmores #CollectiveBias #sponsored
Hey guys!!  So it is summer and of course that comes with swimming and sun but what about summer nights?  Magical memories made catching lighting bugs and sitting around a fire roasting hot dogs and that summer classic S'mores at a summer get-together!
This summer has been super busy and let's face it being pregnant makes for one tired mama!  I didn't want Dean to miss out on all the summer camping fun.
So I devised a plan to grill up some hot dogs, make a tent in the living room with some movies and of course have some S'mores!
S'mores are such a quick summertime treat and I know my kid's eye's light up when I say "Let's Make S'Mores Tonight"!! Since it is such an easy dessert to make and a perfect treat any day can be a S'mores Day, so just keep your pantry stocked with plenty of marshmallows, graham crackers and chocolate!
I headed to Walmart and gathered up all the things you need for amazing S'mores, Jet Puffed Marshmallows, Honey Maid Graham Cracker Squares and of course Hershey Bars.
To go with our camping theme I chose to go with a trail mix S'mores bar.  I set out all the ingredients you need to make perfect S'mores. Then I added some toppings, Hershey Drops, Planter's Honey Roasted Mixed Nuts and I even found Planter's S'mores nut mix!  You could add in your favorite trail mix toppings too like raisins and pretzels!
This S'mores bar is so easy to set up.  I just lay out a little flannel to go with a rustic theme, then use buckets for your toppings.
To really hone in on a camping/rustic theme I printed out some cute faux wooden labels for all our S'mores ingredients.  You can print them out for your S'mores bar!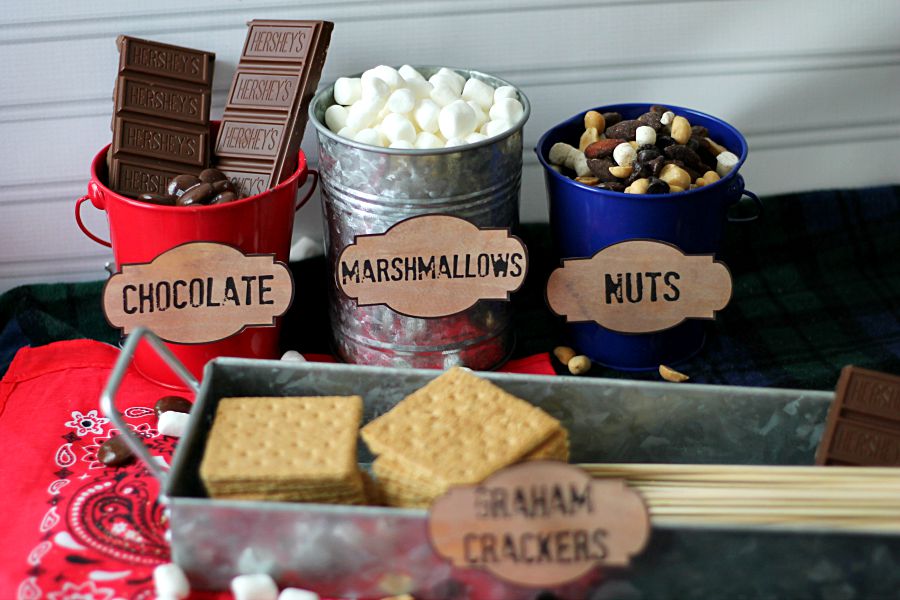 To make the S'mores is easy, just pull out a graham cracker square (love how these are already in perfect squares!!), then I roast my marshmallows over the stove (I have done this on gas and electric, both worked perfectly for me!)  Now if you are like me you will probably consume a few ooey, gooey, toasty marshmallows before they make it to the crackers lol!
So lay a a few squares of chocolate on the graham cracker and then top that with your toasty marshmallow.
Now is the time to jazz up those S'mores!  Add your nuts and Hershey Drops, the chocolate covered graham cracker bits, whatever you like!
Yum!!  How good do those look?!?
Camping in the living room might not be the best place for all that melty marshmallow.  I have got a great alternative if you want to sit down with and relax with your S'mores.
Start with the same ingredients, your graham crackers, chocolate bars and marshmallow (go with mini marshmallows this time).  Break your graham crackers into smaller pieces this time.
Now set that all out with all your trail mix toppings and build your own S'mores Trail Mix!  Mix all your favorites together and create a custom S'mores snack just for you, one that is perfect for snuggling down with a movie and snacking on!
S'mores Trail Mix
Ingredients
Honey Maid Graham Squares Broken into pieces
Hershey's Drops
Planter's Mixed Nuts, any variety
Planter's S'mores Nut mix
Any other add ins you like, dried fruit would be a great addition!
Instructions
Mix all the above ingredients as much as little as you like.
Serve!
Store in air tight container.
So head to Walmart and get everything you need for your S'mores Party!
How do you like to jazz up your S'mores?