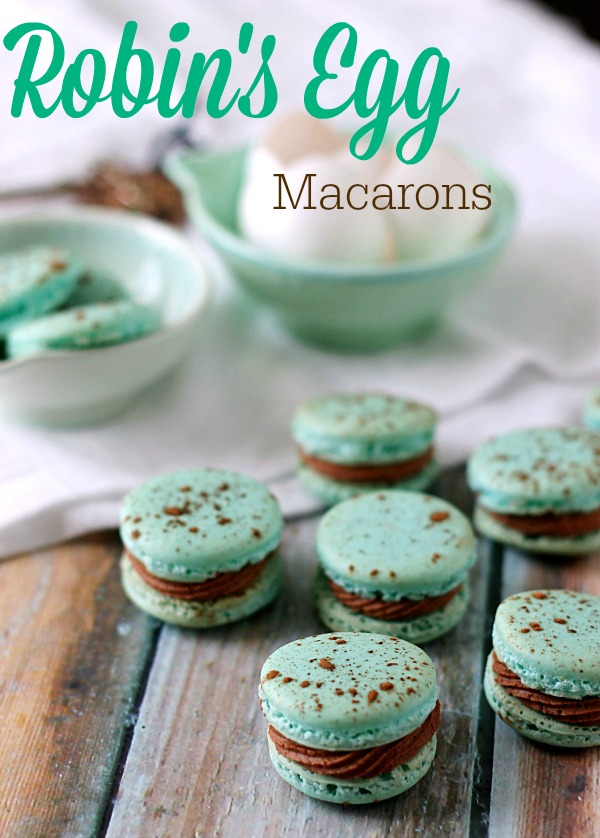 Hey y'all!! I hope you are enjoying all the Spring recipes I've been sharing this month!  I thought Spring was right around the corner with our temps reaching 74 tomorrow, but….. it is dropping to 38 that night.  So these springy macarons are brighten up a chilly day.
I love the colors of robin's eggs and they just scream spring to me.  I knew it would be a fabulous look for macarons.
Macarons can be intimidating, they are a fussy cookie to make, however they are actually a very easy cookie to make, it uses few ingredients and few steps.  The challenge is in the folding, a few strokes to much or too little and your macarons won't come out perfectly.  This is my second time making macarons and while I did have a few casualties I was happy with the way they came out.  I think I could have whipped my egg whites a minute or two longer and I think I might have let them set before baking just a touch too long resulting in a few being lopsided.  These flaws did not make them any less delicious lol!
I know you can look for macaron recipes on the internet and you are going to see a whole lot of rules and tips and it might get overwhelming.  I have found a no fail recipe from Entertaining With Beth that includes a YouTube video and it will have you making macarons in no time!
The only tip I can share personally is to go ahead an invest in a silpat macaron sheet, they are like 12 bucks on Amazon, they have an outline for each, without this silpat I cannot pipe even circles for the life of me lol
The recipe is simple, just follow the tips in the video and you'll be fine.  My other tip is to not give up after the first or second or third try.  These are a delicious cookie and with practice you can make them perfect too.
I whip these up and fill them with a whipped  chocolate ganache.  I add just a bit of light blue food coloring to give them a robin's egg color and then before baking I sprinkle them with a little cocoa powder for that speckled look.
They are gorgeous and perfect for your Easter table.  You can resist this light cookies with chocolate filling?
So don't be scared, take your time and you too will have amazing macarons that will wow!
Head on over to Dana's and check out her Fluffy Bunny Tails, yum!!
Want more Spring Desserts? Check out my other Springy Recipes!
Follow me on Pinterest for more yummy inspiration!