Love The Sims Series? Check out The Sims™ 4!
This shop has been compensated by Collective Bias, Inc. and its advertiser. All opinions are mine alone.
#TheSims4 #CollectiveBias

 Hey guys!!!  I cannot even begin to tell you how excited I am for The Sims™ 4!  I have been a HUGE fan of The Sims Series since the first one.  I spent an embarrassing amount of hours playing it and even got my uncle hooked (he stayed up so late playing he had to call in to work :x
Then I unleashed The Sims™ addictiveness on my little sister and we both squealed like little girls when we found out they were coming out with a 4th one!  Between the 2 of us we own every Sims™ game and every expansion!
We love creating our characters, building homes, starting families and just seeing how all the great stories play out!  Each Sims™ game that comes out has more and more options than before and I cannot wait to see what The Sims™ 4 has in store in terms of customization!
I read that it now has better creative tools which I know will be lots of fun in creating Sims™ and homes.  Also for the first time ever we can now sculpt the Sims™ by hand making each character completely unique and giving you full creative control.  I cannot wait to build start building homes now that it is even easier to build room by room.  Now it will be even easier and faster for me to create the Sims™ and the homes I have always wanted.
Speaking of creating The Sims™ 4 has made it easier than ever before to share your creations with friends or bring the world's creations into your own game with the new Gallery function.  Uploading and downloading creations is a snap and you can now do it in game!
Another great update to the game is their new big personalities. The Sims™ themselves, are smarter, more relatable and more emotionally aware and now their every action is affected by what they're thinking and how they're feeling. The Smarter Sims™ have traits, skills, and aspirations that effect their behavior which is brand new!  They behave and emote more believable than ever before. You can now easily see if your Sims™ are sad, happy, or angry in an instant and see how it will effect their behaviors and actions and therefore the Sims around them.
I could not wait to try the demo and all it did was make me more and more excited for the release of The Sims™ 4 September 2nd.
This is The Sims™ 4 Create a Sims demo and it really lets you see how customizable creating a Sim™ now is.  I love all the new hair styles and you can even get freckles or moles!!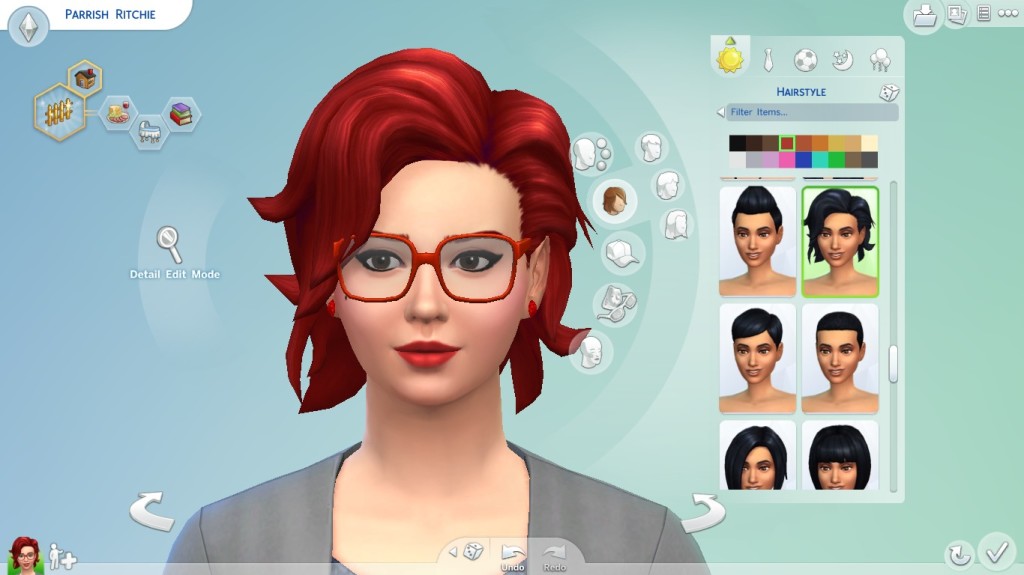 You get to choose from a variety of body types and go in depth to perfect them even more.  You can even add tattoos!!
 Don't forget everyone's favorite part…dressing your Sim™!!!  Each outfit has even more colors you can choose from making the possibilities endless!
Now for the other fun part!  Picking your Sims™ aspirations and traits!
Now don't forget that your aspiration effects what your Sims™ strives for and how they act.  The same goes for traits, they now effect how your Sim™ reacts in situations, so choose wisely!!
This demo blew me away and I can barely wait to get my copy!!  I logged right in to Walmart.com to preorder my copy of The Sims™ 4.
I really love all the extras I get by preordering with Walmart!  I get the game but also a few Walmart exclusives like a pack of NEW Sour Patch Kids Gum (which sounds delicious) a Sims 4 Plumbob keychain, $4.99 VUDU Movie credit, digital magazine, digital starter strategy guide and Life Of The Party Content.  That is a lot of extras and that is why I preorder from Walmart!!
You can preorder your copy now before the game is released September 2nd and get all your Walmart exclusives too!!
Check out more The Sims™ 4 stuff here —->