How To Keep Your Kid's Teeth Healthy During The Holidays!!
I taught my child the importance of oral health care with LISTERINE® Smart Rinse, as part of a sponsored post for Socialstars #LISTERINE
Hey guys!!  Woo it is the holiday season and that starts with Halloween, then we go to Thanksgiving and then Christmas!!!
I love the holiday season and so does Dean, and why wouldn't he?  From October to January it is just one big sweet fest!  Tons of candy on Halloween that tends to linger around, pies and sweets on Thanksgiving and then pies and sweets AND candy on Christmas.
It is a lot of sugar!!  Asides from forbidding candy before lunch we let Dean enjoy the treats of the season with one rule…  he has to brush his teeth and use LISTERINE® Smart Rinse.  This ensures us that his teeth will survive the sweetest season of the year.  
We use LISTERINE® Smart Rinse all year round but during the holidays we make double sure he is using it every night and morning with no exception!

We actually have a little night time routine that is probably a little unconventional but has worked for us for years and makes out life easy peasy.   Every night Dean gets in the shower and after he is done washing I give him his toothbrush and he brushes his teeth, no mess, no fuss.  If he drools toothpaste foam down his front it is no biggie.  Then when he is done he just rinses his mouth right there with the shower water lol.  Then we use LISTERINE® Smart Rinse and again no worrying about dribbles as he is already in the shower.  It makes my life easier and the night go much smoother, plus we never ever forget to brush our teeth when it is worked into our shower routine, win win!

Dean knows how important it is to keep his teeth clean and he does a fabulous job of brushing his teeth, but he and I both know sometimes that toothbrush can't reach everywhere and there could be a little bit of pumpkin pie or candy cane hiding in there so we send in LISTERINE® Smart Rinse to flush out all the hiders!  Dean loves thinking of it that way, like a hide and seek with those cavity causers.

As a mom I know how important it is for him to rinse with LISTERINE® Smart Rinse before bed because it provides 12 hour cavity protection, because us moms need one less thing to worry about when we finally climb into bed.  I also sleep soundly knowing LISTERINE® Kids strengthens teeth 99% better than brushing alone. 

Dean has always loved using the LISTERINE® Smart Rinse because he has grown up watching us use Adult LISTERINE®, so he feels like such a big boy that he has his own, and he loves that it has the Avengers on it which is a double score for us!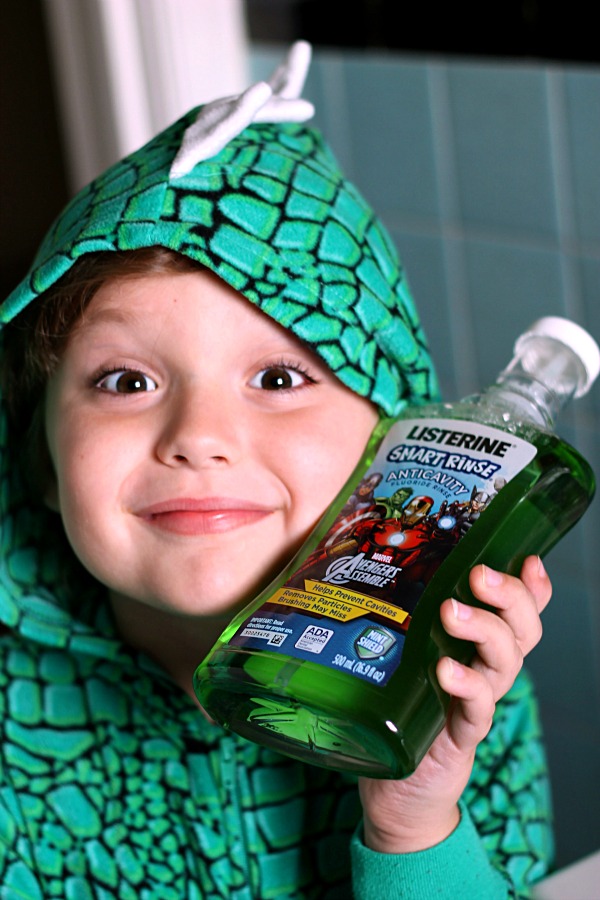 So this sweet season enjoy the holidays, let them have that extra cup of hot chocolate or that one last bite of candy and let them fall asleep with dreams of sugar plum fairies because you know their teeth will be well protected with LISTERINE® Smart Rinse!