Toasty Cheese and Bacon Bread
Hey there, friends! Leia, again, from Eat It & Say Yum.
Are you enjoying some Fall weather in your neck of the woods?
Here in Montana, things have really cooled off, and I am loving it!
Tis' the season for sweaters, boots, and warm comfort food.
This recipe is the PERFECT side for any soup or casserole. It's super easy to make, and tastes amazing.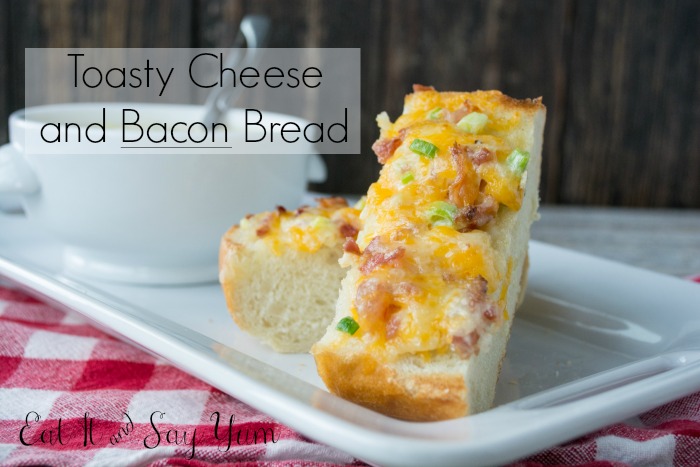 Ingredients:
1 loaf of French Bread
1+ cups of grated cheese (I like Colby Jack)
6 slices of bacon, cooked til crispy then crumbled
2-3 green onion stalks, sliced
1/4 cup mayonnaise (you could leave this out if you don't like mayo, but it really works well as a binder for everything)
butter- at room temperature
Directions:
1. Slice the loaf of French Bread down the middle, basically cutting the top half off. So you have two long halves.
2. Spread the soft butter over the cut side of both halves. Set aside.
3. In a medium mixing bowl combine the grated cheese, crumbled bacon, sliced green onions, and the mayonnaise. Stir to incorporate everything. Spread this over the butter on the bread, dividing equally between both pieces.
4. Toast the bread under the broiler on a cookie sheet, for about 30 seconds to 1 minute. Watch it carefully so you don't burn it.
5. Once you have removed the bread from the oven, let it cool a minute and then gently slice into 1 1/2- 2 inch slices.
This tasty bread is great for dipping into soups. Or just eating plain…
Anyway, it's a great way to warm yourself up with Fall and Winter.