Halloween Char-BOO-terie Boards
This post is sponsored by Mondelez and all opinions are my own.
Hey guys!!! Halloween is right around the corner and we could not be more excited!!!! I love Halloween!!
I don't love it for the scary costumes and haunted houses, I just love spending the evening walking around my grandparents' neighborhood breathing in the crisp fall air while echoes of "trick or treat" sound through the streets.
I love spending late nights putting the finishing touches on Dean's costume, which is always something classic, a spider, a skeleton or a puppy.
Then we end the night by going back to my grandparent's house and ordering pizza while the kids dump their spoils on the floor and the parent's sift through always sampling just to "make sure it's safe".
Halloween this year is looking a little different for us. We will be staying home this Halloween. We are all going to get in those comfy pajama onesie type costumes, have a fun little candy hunt indoors and then pop on a spooky (but kid friendly) movie and have some great snacks.
I get all my Halloween goodies movies and costumes included right
at Walmart
! I love how it is a one stop shop for everything I need. I also take full advantage of their
online pickup/delivery services
and order my groceries from the sofa lol!
I was able to get some our favorite Halloween favorites at Walmart and everything we needed to make these spooky Char-BOO-terie Boards. We made a sweet one and a savory one!
Using our favorite crackers like Triscuit, Wheat Thins, and RITZ I whipped up this savory board in no time!
I used black beans to make a delicious hummus complete with sour cream spiderweb and black olive spider which every one loved!!
I also used some small Halloween cookie cutters to make these fun ghosts and pumpkins out of cheddar cheese slices. These took just minutes to make and really made this board fabulously festive for my little ghouls and goblins.
I filled up a few mini cauldrons with Wheat Thins and this board was ready to go for our monster movie night.
But of course you can't have salty without a little sweet and since they already had a ton of candy I decided to switch it up and make this little cookie board.
I decorated these cookies super simply. I loved adding white chocolate and candy eyes to the NutterButters to make them look like ghosts and I dipped the OREO cookies in orange chocolate and gave them a few sprinkles to make them pop.
I really loved how both of these boards came out. I think they are adorable and they were so so easy to put together. You can customize them any way you want and use your favorite crackers and dip or any cookies like
OREO, Chips Ahoy!, NutterButter, Nilla, Honey Maid, or Newtons
. These are our favorite kinds and I always pick up a pack or two from Walmart when I'm doing my weekly shopping.
So no matter what this Halloween looks like you can create fun memories right at home with these cute Char-BOO-terie Boards and an indoor candy hunt and movie. Head to Creepitrealhalloween.com for more ideas!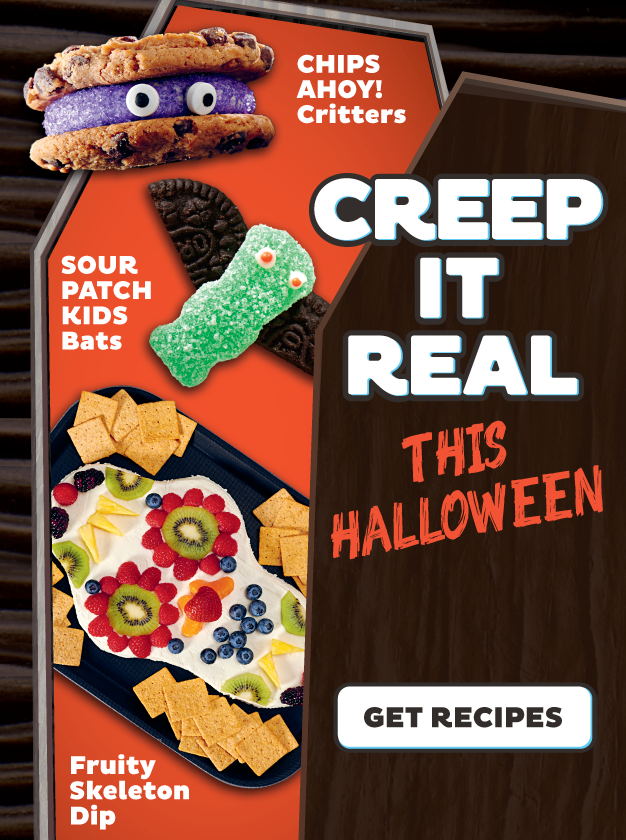 Black Bean Hummus
Ingredients
2 cups canned black beans, drained
1 tablespoon olive oil
2 tablespoons fresh lemon juice
2 tablespoons plain nonfat yogurt
1 clove garlic, roughly chopped
salt and pepper to taste
Sour creamBlack olives
Instructions
Place all ingredients except sour cream and olives into the food processor and blend till well mixed.

Spoon into little ramekins.

Place sour cream into a ziploc bag and cut off a small tip.

Pipe on your spider web.

Decorate with black olives to resemble spiders.

Serve with TRISCUIT Crackers, RITZ and WHEAT THIN Snacks