So this weekend I made the famous "Slutty Brownies" and omg are they delicious and sinful.  However, I do not want my kids coming up to me asking if they can have a slutty brownie, or asking me what slutty means.  So I just called them stuffed brownies for lack of a better name.
The slutty brownies are pretty life changing, I don't know if I can go back to just eating plain brownies anymore.  The Oreo in the middle gets really soft and the cookie layer stays pretty soft too and then the moist fudge brownie just ties the whole mess together into one rich, decadent bite.
Now I love Oreos like pretty much everyone does but I am a huge fan of the Golden Oreos, I would probably choose those over chocolate Oreos most days.  So of course after experiencing the deliciousness of the original slutty brownies I had to experiment with the Golden Oreos.  They turned out AMAZING!  I could eat these all day (please someone stop me!!)
I used a sugar cookie base this go round, the golden oreos and a blondie batter on top.  Sooo good!!
So head to your kitchen and make these, you will be so happy you did.  Call them Slutty Blondies if you want, I'm sticking with Golden Oreo Blondies for the little ears in my house. Either way get some of these in your oven now!! You will thank me :)  Oh and you might want to have a big cold glass of milk handy because these bars are rich!!
You just start with a layer of sugar cookie dough.
Place on the Golden Oreos.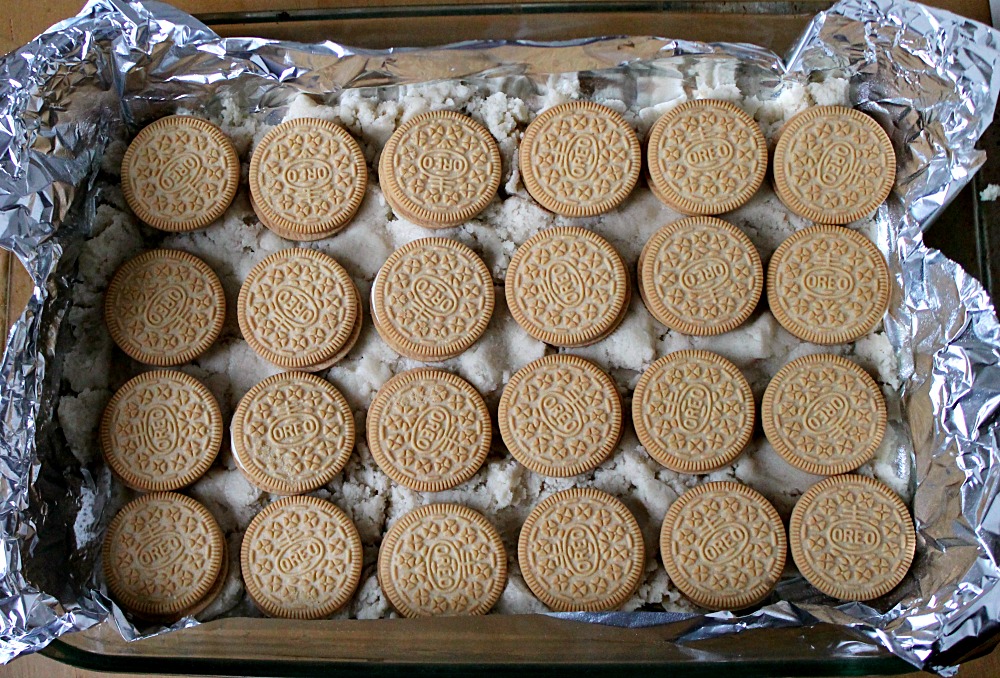 Then the blondie batter layer.
Then all that's left is to bake it and you will have the most delicious blondies!
Golden Oreo Blondies
Ingredients
1 roll of refrigerated sugar cookie dough
1 package of Golden Oreos
1/2 pound 2 sticks unsalted butter, at room temperature
1 cup light brown sugar, lightly packed
1/2 cup granulated sugar
2 teaspoons pure vanilla extract
2 extra-large eggs, at room temperature
2 cups all-purpose flour
1 teaspoon baking soda
1 teaspoon kosher salt
Instructions
Preheat oven to 350 degrees.
In a 9x13 pan lined with foil and sprayed with cooking spray spread out the sugar cookie dough, into a layer.
Then place the Golden Oreos on top of that (you will have leftover cookies, perfect for a snack ;)
In the bowl of an electric mixer fitted with the paddle attachment, cream the butter, brown sugar, and granulated sugar on high speed until light and fluffy. With the mixer on low, add the vanilla, then the eggs, one at a time, and mix well.
In a small bowl, sift together the flour, baking soda and salt and with the mixer still on low, slowly add flour mixture to the butter mixture.
Spread blondie batter on top of cookie layer and bake for 30-35 minutes.
Let cool, cut into squares and serve!