Easy Sausage Rice Dinner!
This is a sponsored post for Success Rice a brand I love and trust.  All opinions are 100% my own.
Hey guys!!  Okay it now officially fall!!  Time to break out the sweaters and boots, the fireplace and the quilts, and oh yeah all that warm comforting food to banish that nip in the air.
Usually when you think of hearty, comforting fall meals you imagine meals that cook all day and can be a little bit involved.  That doesn't mesh well with the busy lifestyle most of us lead.
So how about I share with you a quick heart dinner you can make in a snap using Success® Whole-Grain Brown Rice?  I just love the texture of the brown rice and it's nutty flavor and with the boil-in-bag method it is guaranteed perfect every time.  You can use this delicious rice in anything from casseroles to soups.  But today I will show you how to make a quick dinner with the brown rice, smoked sausage and black eyed peas, yum!!
I just saute up some green bell pepper with a little onion.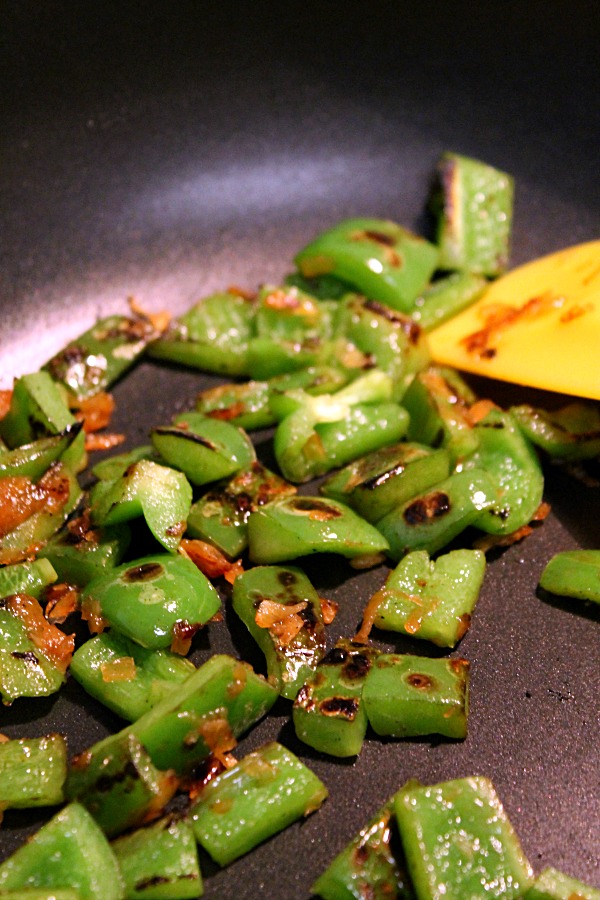 Then toss in some sliced smoked sausage and let that get a little color.
Add in a little butter for flavor.
Boil up my Success® Whole-Grain Brown Rice which only takes 10 minutes to cook.
Add that to the pan and a can of black eyed peas.
A splash of hot sauce and dinner is done!
Doesn't that just scream comfort? The beans and rice get all the yummy flavor from the sausage and pepper and onion, it is a winner!
Easy Sausage Rice Dinner!
Ingredients
1 pound smoked sausage sliced
1 green bell pepper diced
1 onion diced
2 Tablespoons Butter
1 can black eyed peas, drained
Success® Whole-Grain Brown Rice
Instructions
Saute up the onion and pepper until they are softened and have a little color.
In the same pan brown up the sausage.
Add the butter to the pan along with some salt and pepper.
While the sausage is browning boil your Success® Whole-Grain Brown Rice according to box directions.
Add the cooked rice to the pan along with the can of black eyed peas.
Stir to combine and serve! Dinner is done!
It took minutes to make and by using Success® Whole-Grain Brown Rice I was in and out of the kitchen in no time and got an outstanding flavorful dinner on my family's plates that was sure to warm them right up!
I love using Success Rice to help me out on the busy nights and with four varieties there's one for any meal you can imagine!
Keep Success® Rice on hand during these busy days and you can skip the drive thru and serve up an outstanding family meal like this one in no time!
Got even more for you!  Success® Rice is participating in a sweepstakes from O, The Oprah Magazine! Visit https://omagonline.com/cooking, submit the entry form and pin with inspiration from O's PROMO: How Are You Cooking This Fall? Pinterest board for a chance to win a variety of culinary-themed prizes!!  How fun!!!
Get more info on Success® Rice and find some recipe ideas here —->  Success® Rice
Want more recipe inspiration, lifestyle tips and more follow Success® Rice on
Facebook
Twitter
Pinterest
How can Success® Rice help you get a quick delicious dinner on the table fast?
Do you have any kitchen shortcuts to help make dinner a snap?
This is a sponsored post written by me on behalf Success® Rice.