On top of trying to get this blog makeover done I also was in the midst of planning Dean's 3rd birthday which thanks to Pinterest and Holly over at Mimi's Dollhouse his birthday was a success!
I am an obsessive party planner. I live for party planning (I am already planning my Christmas Eve party).  So when Dean's birthday rolls around I try not to go crazy but the uncontrollable urge to make everything color coordinated just takes over.  A week earlier I did an awesome neon paint splatter party for my little sister that I will share next week.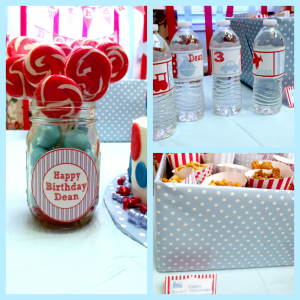 For Dean's party I made things easy by ordering pizza for the main course because it is easy, it costs about the same as making a main course and sides at home and pizza is Dean's favorite, so that was a big time saver.
I got the printables custom made and they were amazing, I really recommend Mimi's Dollhouse for your next party as she made everything exactly how I pictured it.  I used sticker cutouts from her for the salad cups and served them individually and I actually think it got more people to eat salad because I had no leftovers lol! 
The Oreo Cake Pops were to die for and again I came home with no leftovers.  I find these easier to make than regular cakepops and actually tastier.  You just throw a pack of oreos in the food processor with a block of cream cheese, roll into balls, pop in some sticks, freeze and then coat in melted chocolate, super super simple.   
Also the Ritz Peanut Butter Cracker Pops were a cinch to make, just sandwich peanut butter and a popsicle stick between 2 Ritz, freeze and coat with chocolate.
Everyone had a blast at his birthday, even though I barely saw the birthday boy as he was too busy swimming, but once he came in and saw his party set up he actually did a little dance, it was the cutest thing ever!!!  And while sitting in his chair eating pizza he would randomly hold his little arms out gesturing to all the decorations while shouting "MY PARTY".
This was almost better than his first birthday since he actually really understood what was going on this year and he was sooo excited for it all it made the 4 hours of sleep I got that weekend completely worth it.
Big thanks again to Holly from Mimi's Dollhouse for the amazing decorations!!!  Definitely check out her shop for your next party, she made my party vision come to life and I know she can make yours too!  She also has an Etsy shop too.