Dare to compare with the White Cloud Challenge
This is a Sponsored post written by me on behalf of White Cloud. All opinions are 100% mine.
Hey everyone!  I wanted to let you all know about this amazing new detergent I found!  As a mom of a rough and tumble little boy I am no stranger to stains, food stains, grass stains, weird mystery stains, they all plague me.  My current detergent would never quite get the stain gone, it would always leave a little ghost stain behind.
Frustrated I went to Walmart to find a better detergent and I found their White Cloud Detergent with a 3-in-1 Micro Clean Technology which is an enzyme-based formula that can get out even my toughest stains, it contains a pre-treater, stain remover and color booster all in one!  I was sold, now just to choose between their 3 amazing scents, Blooming Lavender, Summer Breeze or Tropical Fiesta.  I chose Blooming Lavender because we love the scent of lavender here and I am glad I chose it because it smells amazing.  Our clothes smell so fresh and clean, and the lavender scent is just heavenly!  It also comes in both liquid and powder form so whichever you prefer they got you covered! 
With a big stinky pile of boy clothes at home I knew I chose the right detergent for the job!  Now just to see if it was up to the challenge of these grass stains and chocolate.
It got out the stains!!!! This is definitely my new detergent!  No leftover ghost stains, they were completely gone!!  I know now that White Cloud Detergent will be able to get out my tough stains from now on.  No more throwing the clothes in the washer hoping they come out clean, I am now confident my clothes will come out stain free and smelling fresh!
I cannot stop raving about this detergent!  Not only is it powerful at getting out my toughest stains but it smells amazing.  It's no wonder that in less than 6 months of launching a leading consumer magazine already named it #1 in value and #6 in cleaning.
White Cloud is known for their great products like their soft and strong Bath Tissue, Facial Tissue and Paper Towels. They now want to invite you all to discover their new line of Laundry Care products. Walmart moms can trust the quality and value of White Cloud Laundry Detergent.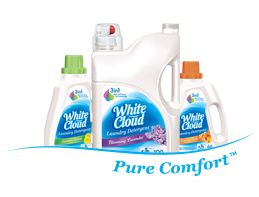 Want to see for yourself how White Cloud can help you save your budget, and your family's clothes and "Dare To Compare"?  Head to their Facebook Page and grab a coupon* so you too can get the awesome stain fighting power of White Cloud for your toughest stains then head to you nearest Walmart and try it for yourself! Store Locator
Keep up to date with White Cloud below
Follow White Cloud on Pinterest
*Disclaimer: Limit one coupon per purchase on product specified. No cash back if coupon value is higher than purchase price. Void if reproduced, transferred, used to purchase products for resale or where prohibited/regulated by law. Not valid on trial sizes. Consumer pays sales tax. Redeemable at participating retail stores. Valid only in the U.S.