Cranberry Orange Scones~Mallory
Hi Guys! It's Mallory again from Chocolate with Grace. So it is officially November, and in the blogging world pumpkin is dying out and Thanksgiving and Christmas recipes are taking center stage. As a new blogger, the change of seasons takes my breath away and I find myself behind the latest trends. A quick scan on Pinterest tells me that I should probably be creating some fancy Christmas cookie recipes to share with you all.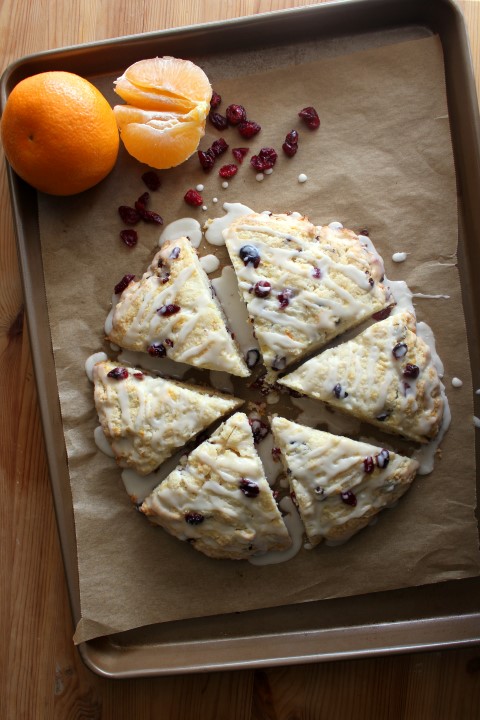 But in my world, Thanksgiving isn't even close enough yet for me to start planning for, let alone Christmas! So I'm sharing a recipe that works great as a breakfast for some Saturday morning when you're browsing some blogs looking for cute table decorations and delicious holiday recipes. The cranberry and orange in these scones are so traditional to this time of year and make up one of my favorites combinations. (By the way, if you're looking for a great Thanksgiving dessert idea, check out my Salted Caramel Pumpkin Cheesecake. It is heavenly!)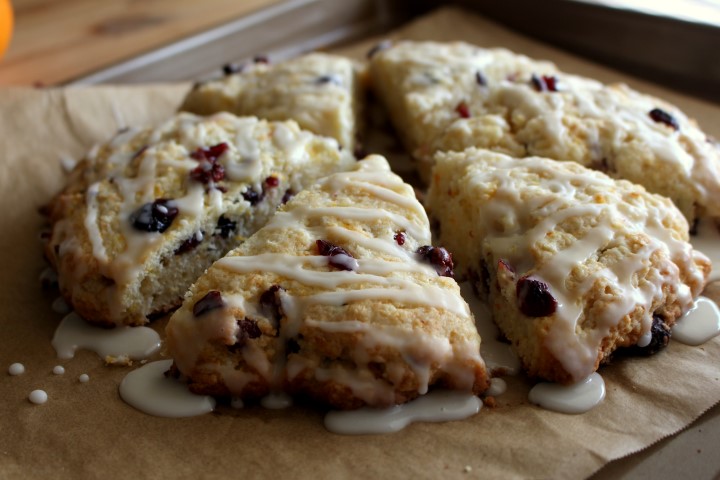 Scones can tend to be dry, and no one likes dry bread for breakfast, so I made moistness my number one priority in this receipt. I tried a few different recipes and combined several of them into my final product, which I think is the absolute best! It uses heavy cream, which while not the healthiest option, is by far the tastiest. I highly recommend you use it, as the extra fat in the cream provides a lot of the moistness and tenderness in these scones. My one other tip is to avoid over-handling the dough. The temptation will be to shape and pat until the are perfect, but that will only make them tough. My favorite way to make them is to shape the dough into an 8 inch disk and then cut them into the traditional wedges after they come out of the oven. A little unusual, but by far the easiest.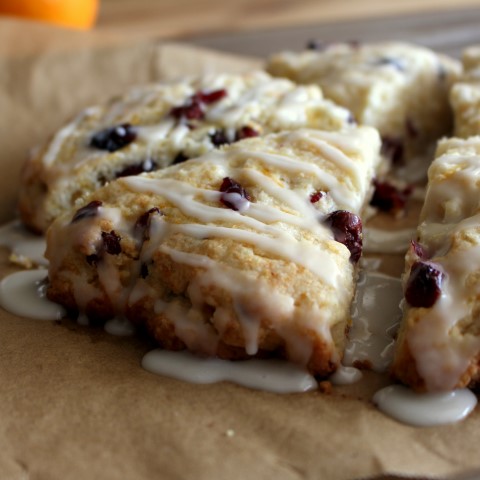 Cranberry Orange Scones

Ingredients

2 cups all purpose flour
2 tsp baking powder
1/2 tsp salt
1/4 cup granulated sugar
6 T cold butter
2/3 cup dried cranberries
2 T orange zest
1 egg
3/4 cup heavy cream

Instructions

Preheat oven to 400 F. In a large bowl, stir together the flour, baking powder, salt and sugar. Cut in the cold butter with a pastry blender until the crumbs are pea-sized.
Gently stir in the dried cranberries and orange zest. In a small bowl whisk together the egg and heavy cream. Pour over the flour mixture and gently stir just until moistened. Line a baking sheet with parchment paper.
Dump the dough onto the parchment paper and pat into an 8-10 inch disk. Bake in preheated oven for 15-17 minutes until lightly brown on edges and toothpick inserted in the middle comes out clean. Do not over bake. Let cool.
To make the glaze combine 1 and 1/2 cups powdered sugar with 2 or 3 tablespoons of oranges juice until it is the right consistency to drizzle. Drizzle the glaze over the cooled scones. These are best enjoyed the day they are made.