Chocolate Dipped Honey Comb Candy
 This shop has been compensated by Collective Bias, Inc. and its advertiser. All opinions are mine alone. #DonVictor #CollectiveBias  #DonVictorHoney
Hey guys!  I am so excited to share this recipe with you today!  It is a super easy candy recipe!  Yes you can make super fabulous candy flavored with yummy honey that is perfect to serve at parties or give to friends.
So first things first we love honey in our house.  We used to just buy the squeezy kind in the little bear bottle (we still do lol) but when I want to cook with honey or use to flavor candy like in this recipe I want something a little more high quality.
When shopping at Walmart the other I was browsing down the Hispanic aisle and I spotted this Don Victor Honey up on the shelf.  The glass jar and piece of real honey comb grabbed my attention and I grabbed it off the shelf.  I knew I had finally found a high quality great tasting honey I can get right at Walmart when doing my grocery shopping.
So I promised you a delicious candy recipe and here we go.  This recipe is delicious and it is gorgeous!!  It is called Honey Comb Candy because when you break into the candy it looks like honeycomb on the inside.  This candy is a cinch to make and turns anyone into a candy maker.
It is always great to have an easy candy recipe or two on hand and this one if perfect.  The rich flavorful honey makes for a crunchy, crispy, light and airy candy.
You just mix sugar, water, corn syrup and honey in a LARGE pot until it turns a caramel color.
Then the magic part happens (no pictures here because I had to work fast lol).  You mix in baking soda and it quadruples in size.  This is where you have to work fast and pour it into your foiled and greased pan.
When it is all good I just drop it on the counter to break it into pieces.  The baking soda is what gives this candy all it's nooks and crannies.  See how amazing it looks!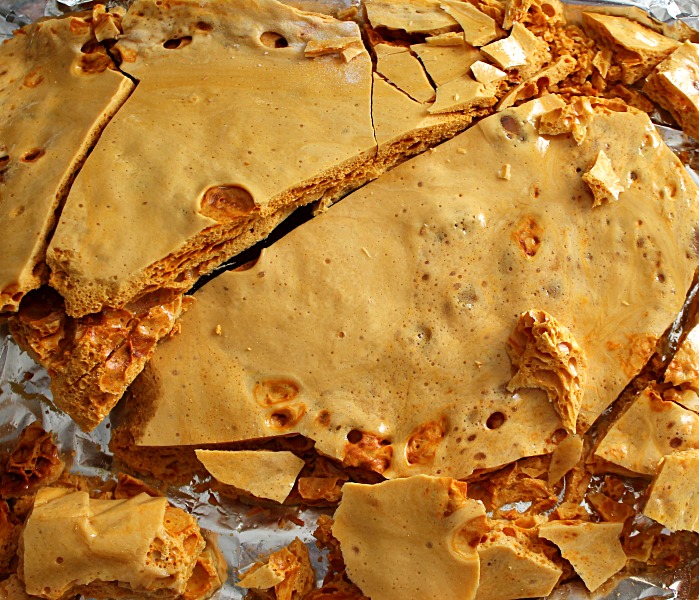 This candy is lovely on it's own.  A jar of this would brighten anyone's day.  See how much it looks like a real honey comb?  Tastes like one too!
  It is wonderful on it's own, but we are going to kick it up a notch!  Dipping the honeycomb candy in melted chocolate not only makes it incredibly decadent but it help preserves the delicate candy.
Now to just make it a little bit more special I took the honey comb and cut off a little piece and topped each chocolate covered piece.
Look how pretty!  Who wouldn't want some of this lovely candy?
Chocolate Dipped Honey Comb Candy
Ingredients
1 1/2 cups sugar
1/2 cup water
3 tablespoons Don Victor honey
1/3 cup corn syrup
4 teaspoons baking soda
Melted semisweet chocolate
Instructions
In a large saucepan, gently combine the sugar and water then add the honey and corn syrup.
Boil until amber colored and the sugar looks like caramel. Do not let it get too dark, I would take it off right before you think it is dark enough.
Add the baking soda, and with a wooden spoon, stir in gently. It will foam up a lot.
Pour the mixture into a foil and greased 9x13, and let cool. Break into pieces.
Melt your semisweet chips in the microwave in 30 second intervals until completely melted.
Dip the candy pieces into the chocolate and place on wax paper.
Top each candy with a bit of the honey comb.
Read more at: http://www.foodnetwork.com/recipes/honeycomb-candy-recipe.html?oc=linkback
So don't be scared!  You too can make this fantastic candy and wow your friends.  Do be careful anytime you are working with melted sugar.
Now don't forget when you are at Walmart looking for your jar of Don Victor honey it is located on the Hispanic aisle.
Speaking of Don Victor did you know they also have a variety of fabulous products?  The have some amazing whipped honeys is flavors like cinnamon, caramel and cocoa, yum!!  I think these would be fabulous slathered on toast.
They also make some amazing olive oil, look how pretty that jar is!  I cannot wait to use it in some delicious recipes!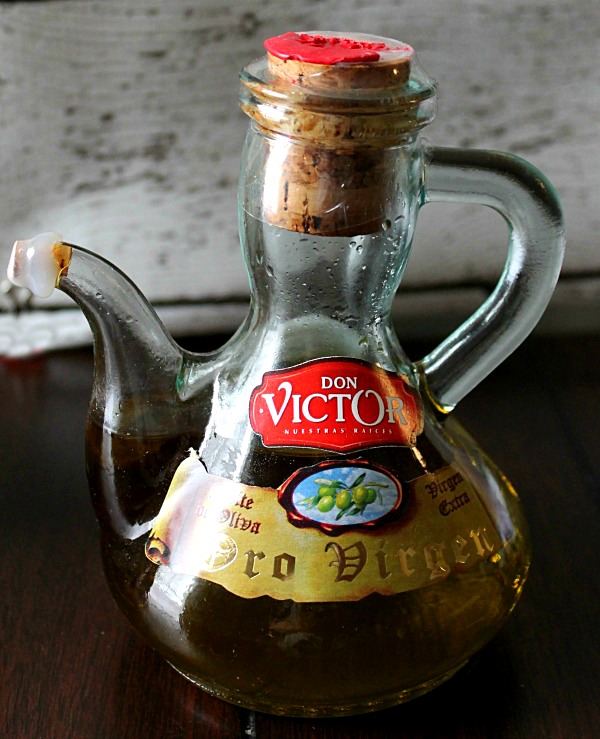 Do you have any honey recipes you love?
Follow Don Victor on Facebook for more recipe inspiration!