Witchy Halloween Party with Tombstone and Nestle
It is almost Halloween! I absolutely love making tons of Halloween treats!  To keep everyone in the Halloween spirit I decided to throw together a little Halloween party for after our visit to the pumpkin patch.
I wanted something easy but fun and a little different than the normal orange and black pumpkin theme.
So I came up with this Witchy Pizza Party theme and thanks to a little help from some delicious Tombstone pizza and yummy Nestle candy, I was able to get this party thrown together in no time!
We decided to go with a spooky black and purple theme.  We served the pizza on a witch's cauldron and for dessert we had "Poison Apples" and even had a little "Pick Your Potion" cupcake center.
I was able to find everything I needed at Wal-mart to get this party up and running in minimal time, though I did make the cupcakes and apples the night before.
The Tombstone Pizza was amazing and all the my little witches and goblins devoured it!  We served it on a "bubbling" cauldron and even had tiny little cauldrons of ranch and marina for dipping.
After pizza it was time for dessert!
The "Poison Apples" were a big hit and looked amazing with their glossy black shell and the purple Nerds added to their poisonous look.  
We also had a "Pick Your Potion" cupcake station, where the kids took their cupcakes and added various witchy ingredients to make their perfect "potion".
We used pink Nerds for "Eye of Newt", crushed up fun-sized Butterfingers for "Goblin Teeth" and halved fun-sized Nestle Crunch bars for "Wing of Bat".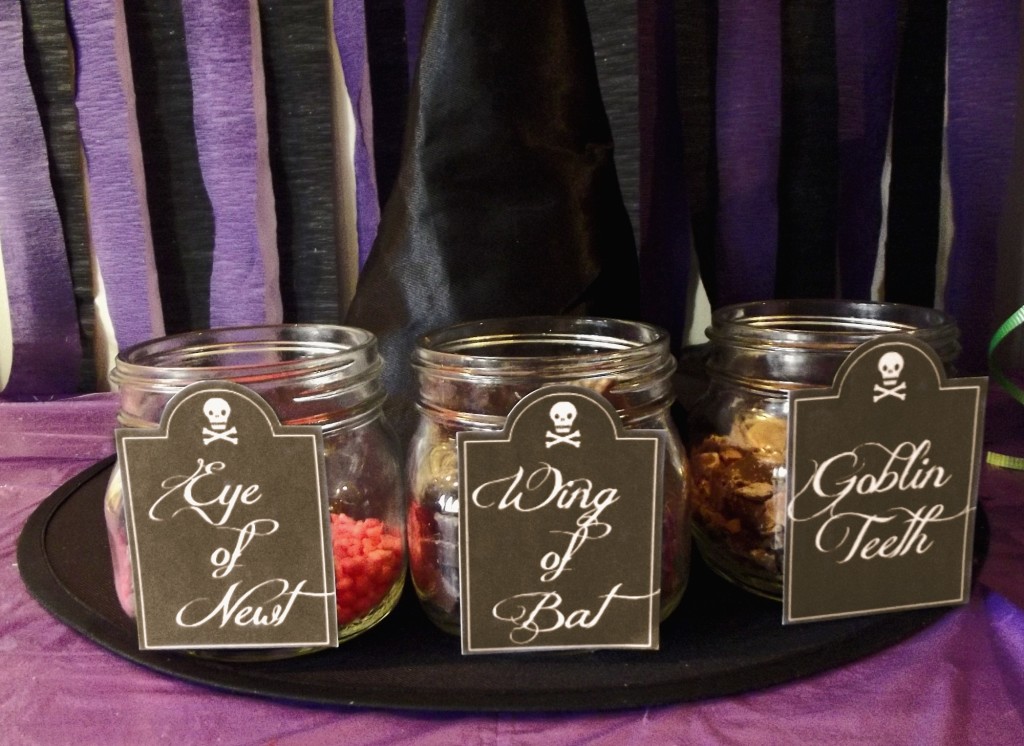 The kids had a blast concocting their own magic potion cupcakes and it was great to see what different combos they came up with.
This party was so much fun, it was a breeze to put together and I loved that it was different than the usual Halloween Party!
Here are the recipes we used to make this spooktacular Witchy Halloween Party!
Pick Your Potion Cupcakes
Ingredients
Chocolate Cupcakes
2 cups white sugar
1 3/4 cups all-purpose flour
3/4 cup unsweetened cocoa powder
1 1/2 teaspoons baking powder
1 1/2 teaspoons baking soda
1 teaspoon salt
2 eggs
1 cup milk
1/2 cup vegetable oil
2 teaspoons vanilla extract
1 cup boiling water
Buttercream Frosting
3 cups confectioners' sugar
1 cup butter
1 teaspoon vanilla extract
1 to 2 tablespoons whipping cream
Instructions
Cupcakes
Preheat oven to 350 degrees F
In a large bowl, stir together the sugar, flour, cocoa, baking powder, baking soda and salt.
Add the eggs, milk, oil and vanilla, mix for 2 minutes on medium speed of mixer.
Stir in the boiling water last. Batter will be thin.
Pour evenly into the cupcake wrappers
.
Bake 30 to 35 minutes in the preheated oven, until the cakes tests done with a toothpick.
Buttercream Frosting
In a standing mixer fitted with a whisk, mix together sugar and butter. Mix on low speed until well blended and then increase speed to medium and beat for another 3 minutes.
Add vanilla and cream and continue to beat on medium speed for 1 minute more, adding more cream if needed for spreading consistency. Color with food coloring as desired.
 Every one had such a great time at the party and the food was delicious!!  We had no leftovers :(  
I hope these Halloween ideas inspired you to host your own Witchy Halloween Party with Tombstone Pizza and Nestle Candy!