Velveted Chicken & Veggie Stir Fry
This is a sponsored post written by me on behalf of AllWhites Egg Whites. All opinions are 100% mine.
Hey guys!!!  I am going to talk t you a little about one of my favorite healthier products, something I reach for when I'm looking to watch my weight.  AllWhites Egg Whites!  They are amazing and so easy to keep on hand!!
It is 100% liquid egg whites in an easy to use container.  No more cracking eggs and sifting out the egg yolk!
What I really love about these egg whites is that they are naturally fat-free and cholesterol-free which makes them a healthy alternative is some recipes that call for eggs.
When you are looking to eat healthier these AllWhites Egg Whites are a perfect lean source of protein to fill you up and keep you full!  You can make delicious fritatas, breakfast burritos and scrambles, the options are endless!!
But today I am going to share with you one of my favorite easy dishes we love to have for dinner, Velveted Chicken & Veggie Stir Fry!
Velveting the chicken is a technique used often in asian cooking to tenderize chicken and it really bumps this stir fry to the next level!!
You just mix your chicken with some cornstarch and the egg whites and let it sit in the fridge for about 30 minutes, then you can get with the stir frying!
Stir fries are already such a lean flavorful meal but velveting the chicken with these egg whites just make it even more delicious!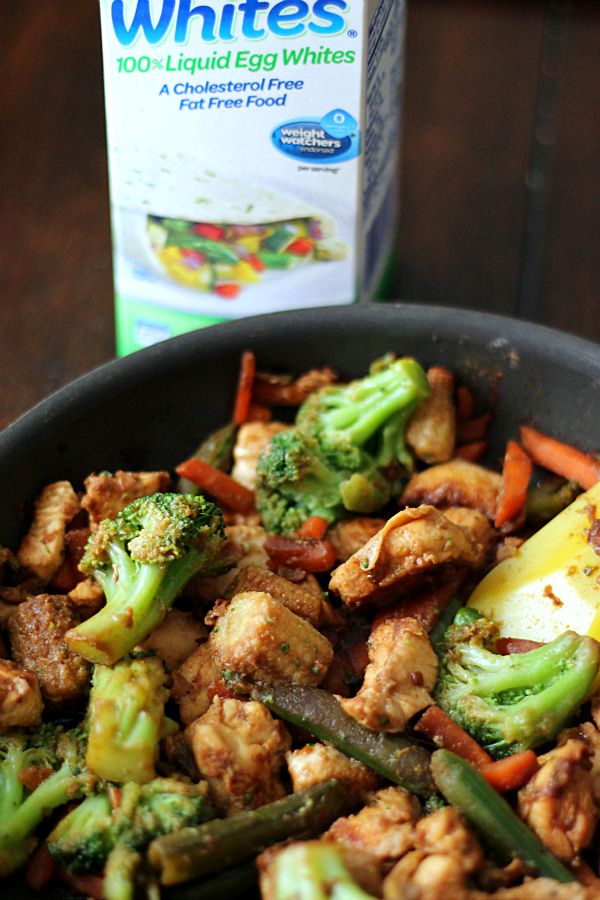 I stir fry my chicken up with a bag of frozen asian style chicken and dinner is done in minutes!
The egg whites keep this chicken sooo tender and I just love it!  I will never go back to not velveting my chicken!!
Velveted Chicken & Veggie Stir Fry
Ingredients
Chicken Ingredients
1 lb. boneless, skinless chicken breasts or tenders, cut into ½ inch pieces
1/4 cup AllWhites® egg whites
2 Tbsp. cornstarch
1 Tbsp. toasted sesame oil
1/2 tsp. salt
Vegetables Ingredients
1 1 /2 cups frozen asian veggie mix
2 Tbsp. canola or peanut oil, divided
4 cloves garlic, finely chopped
1 Tbsp. grated gingerroot
1/3 cup favorite stir-fry sauce
Instructions
Mix chicken, AllWhites egg whites, cornstarch, sesame oil and salt in medium bowl until well blended. Cover and refrigerate for 30 minutes.
Meanwhile, bring a large pan of water to a boil. Add veggies; cook about 30 seconds. Remove with a slotted spoon to a bowl; reserve hot water.
Remove chicken from refrigerator. Bring water back to a simmer; stir in 1 tablespoon oil. Add chicken to water, stirring to separate pieces. Cook about 1 minute or until chicken is opaque. Drain chicken.
Heat remaining 1 tablespoon oil in large skillet over medium-high heat. Add garlic and ginger; cook and stir until fragrant. Add the veggies and green onions; cook and stir 1 minute. Stir in sauce, then scatter chicken on top. Cover and steam 1 to 2 minutes or until chicken is no longer pink in center.
This dinner is fabulous as is or served over some brown rice or quinoa!  It is low in calories and super flavorful!  It has become a family favorite and I found it on the AllWhites website where you can find tons of great recipes!
So next time you are shopping be sure to head to refrigerated dairy section where you can find AllWhites Egg Whites and pick some up so you always have delicious egg whites on hand perfect for a ton of recipes here —-> AllWhites Egg Whites Favorites
Also for all you Weight Watchers out there AllWhites Egg Whites have 0 Points per serving!! Awesome!!!
What are some of your favorite egg white recipes?
For more yummy inspiration check out AllWhites Egg Whites on Facebook and AllWhites Egg Whites on Pinterest