Party with Frozen Food! How Fresh Stays Fresh!!
This is a Sponsored post written by me on behalf of American Frozen Foods Institute and the Frozen Food Roundtable. All opinions are 100% mine.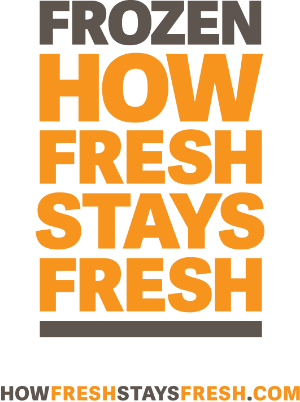 Hey peoples!!  The other day we decided to have a painting party, invite everyone over, have them help us paint our walls and then party a little bit afterwards.
I knew I would not want to be confined to the kitchen while everyone was painting so I decided to take a little help from my freezer and prepare some amazing casual party food for all of our painters to snack on.
So I want to tell you how easy it is to create delicious party food food straight from your freezer in this post, Frozen: How Fresh Stays Fresh and talk to you a little about fresh vs frozen and the benefits of frozen foods.  Freezing naturally pauses recipes made with fresh quality ingredients and suspends them there until you are ready to feed them to your party go-ers locking in all that freshness, flavor and nutrients!
I love using frozen food for my parties because I know the food is made from real recipes and real ingredients.  Freezing food is a just a simple way to just picked, just baked food at the peak of freshness.
I love using them because I know when I am in a time crunch my freezer is full of delicious frozen meals and ingredients that I can prepare in just minutes!
For this party I kept everything casual, I pulled a few ingredients out of my freezer and prepared them while everyone painted.
A frozen bag of Old El Paso Chicken Fajita mix is delicious and I love keeping them on hand for quick taco nights or a fast topping to a mexican pizza.  For this party however from freezer to pan it cooks in 10 minutes and I sprinkled it over chips, topped with cheese and sour cream and Chicken Fajita Nachos were ready for my hungry painters who devoured them.
Of course everyone loves cheese and bacon and potatoes so pulling out a bag of Ore Ida Tater Tots and popping them in the oven makes them super crispy and delicious and perfect for topping with cheddar and bacon.  People love just popping one in their mouth as they walk by.  They take minutes to prepare and can feed a crowd for sure!
Frozen Green Giant spinach is something I always keep on hand because it is so fresh and such a bargain compared to buying a big bag of spinach and cooking it down yourself.  I can add it to pasta dishes, make a side dish out of it or in this case use it to whip up a speedy dip that everyone enjoys.  I just follow the microwave directions for thawing the spinach, add it to some chive cream cheese and shredded mozzarella, microwave again till melty and serve with chips.  People rave over this dip..if only they knew it took minutes to prepare ;)
When all my tired painters were cleaned up and full of yummy party food I pulled out one last freezer surprise… a Hot Fudge Sundae Pie which is a doctored up Marie Callendars Chocolate Silk Pie.  Just thaw it in the fridge, drizzle some hot fudge over the top, garnish with slivered almonds and cherries and you look like a kitchen rockstar thanks to your freezer.
So next time you have guest knocking at the door don't worry just open your freezer and you have all the makings of the perfect party in there!