Apple Cider Cupcakes with Caramel Drizzle
This is a sponsored conversation written by me on behalf of Finlandia™ .  The opinions and text are all mine.
Hey guys!!  It is my favorite time of the year, fall!  I love fall!  I love the crisp evening air, the crunchy leaves on the sidewalk, the old, comfy quilts you pull out of the closet and most of all I love that it is apple cider season!!  I am a huge fan of apple cider, give me a big steamy mug of that over hot chocolate any day!
Fall also gets me in the baking mood.  Something about a cool and cloudy fall day just makes me want to get out the mixer and bake all day.
Anytime I bake I make sure to use Finlandia™ Butter.  It is a premium butter that makes all the difference in the world.  The flavor is so amazing that it makes anything I put it on a million times better, that is why I use it in my baking because I know it will elevated my baked goods.  It also makes outstanding sauces, and dishes and of course it is just fabulous melting on a piece of toast or warm muffin!
Apple Cider Cupcakes with Salted Caramel Drizzle
Ingredients
1 box spice cake mix
Eggs, oil and water according to package directions
6 cups powdered sugar
2 envelopes instant apple cider mix
Apple cider juice, optional
12 ounces Finlandia Unsalted Butter
Caramel Sauce
1 cup granulated sugar
6 tablespoons Finlandia unsalted butter, at room temperature
⅔ cup heavy cream, at room temperature
Instructions
Make the cupcakes according to box direction and let cook.
Meanwhile mix the softened butter and powdered sugar together
Add the apple cider mix
If frosting is too thick you can thin it out with apple cider
Blend the buttercream until smooth and fluffy
Ice the cupcakes
For the caramel
In a small saucepan, heat the sugar over medium-high heat, whisking as the sugar begins to melt.
Continue to cook the sugar until it reaches a dark amber color.
And then add the butter all at once and whisk until it is completely incorporated into the sugar. Remove the pan from the heat and pour in the heavy cream. Continue to whisk until it forms a smooth sauce.
Drizzle of cupcakes and serve!!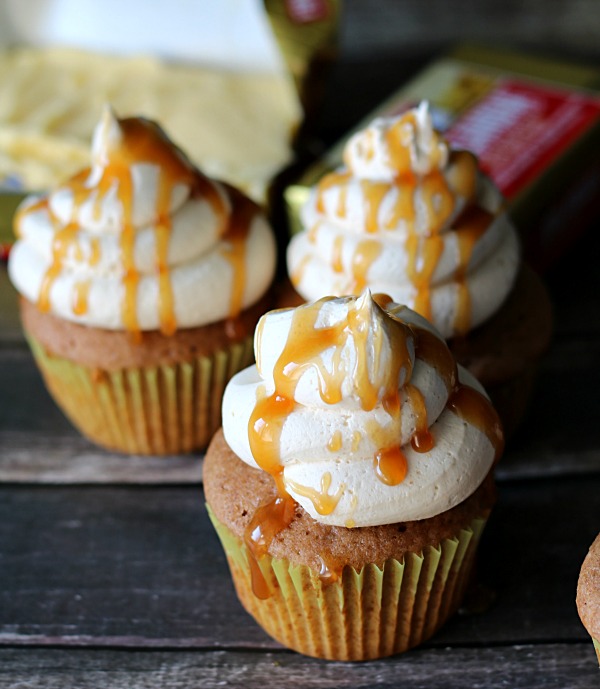 Spice cake mix makes these a snap to make while apple cider flavors the butter cream.  The salted caramel really puts these cupcakes over the top!
So this baking season make sure to keep your fridge stocked with Finlandia butter for all those scrumptious holiday meals and baking!
Get more delicious recipes by following Finlandia on
Facebook
Twitter
Instagram
Pinterest
This is a sponsored conversation written by me on behalf of Finlandia™ . The opinions and text are all mine.