This is a sponsored conversation written by me on behalf of Lysol®. The opinions and text are all mine.
I am a boy mom.  I live in a house with nothing but boys and my husband.  I always thought people exaggerated when they would complain about their stinky boys or how dirty little boys could get.
Then I had one, and then I had another.  They were right, they were soooo right!!
Walking into the bathroom where there is a pile of my husband's work clothes and my son's school uniforms, the smell could knock you over!
My husband is a milk man and his job requires him to walk through wet yards and when he comes home his socks are soaked and then they get stinky!  Also working around all the milk there are always spills so his uniform often smells like sour milk.
Dean is in school where, let's face it, it is just a cesspool of germs, and he's 8 years old, they aren't particularly known for their outstanding hygiene habits at this age, yuck.
Then comes my youngest who can go through up to 3 changes of clothes a day!  If he isn't spilling food all over his shirt, he's spitting up on his clothes.
As I gather up this disgusting pile of clothes I cannot help but wonder what is lurking behind those stains and smells. Bacteria? Germs? Probably both!
While my laundry soap does a good job of removing stains and smells, how clean are my clothes really getting?  All I can imagine is that all of that bacteria is still lingering on my clothes, but now they just smell like a meadow lol.
Is my detergent really getting rid of that stomach flu bacteria from Dean's school pants, or did it just spread around to the rest of the clothes?
While I was doing my weekly shopping at Target, the happiest place on Earth, I spotted Lysol® Laundry Sanitizer! It is an additive specially designed to kill 99.9% of bacteria in laundry (when used as directed in rinse cycle).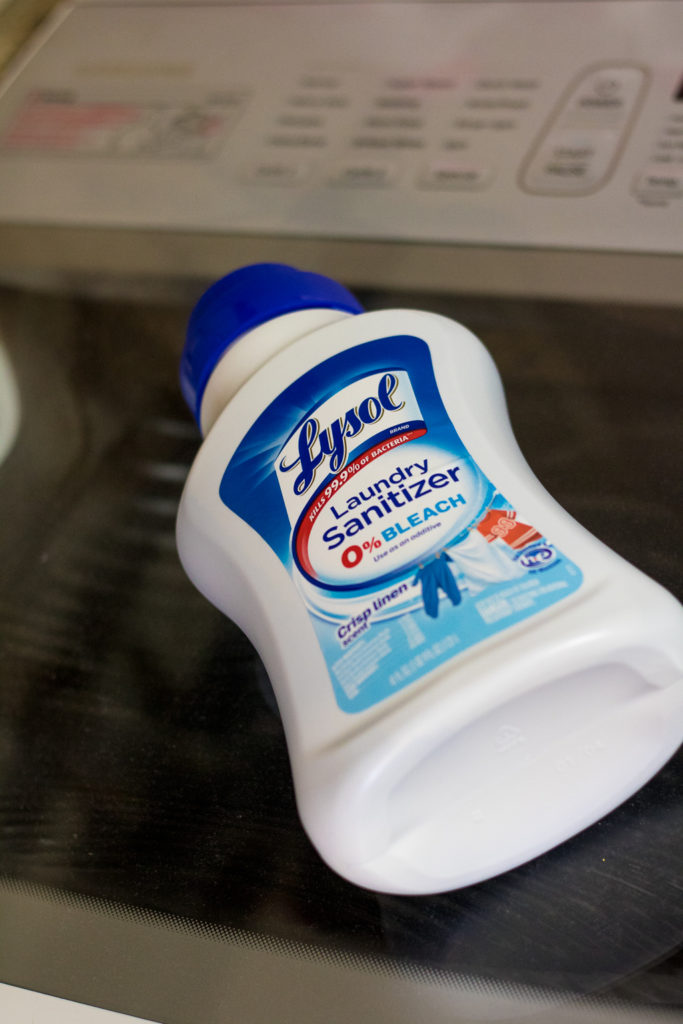 What?!? Could this really be the answer to my prayers?  Yes!  There's no chlorine bleach and it works in cold water and is safe for most fabrics, whites, darks and colors!!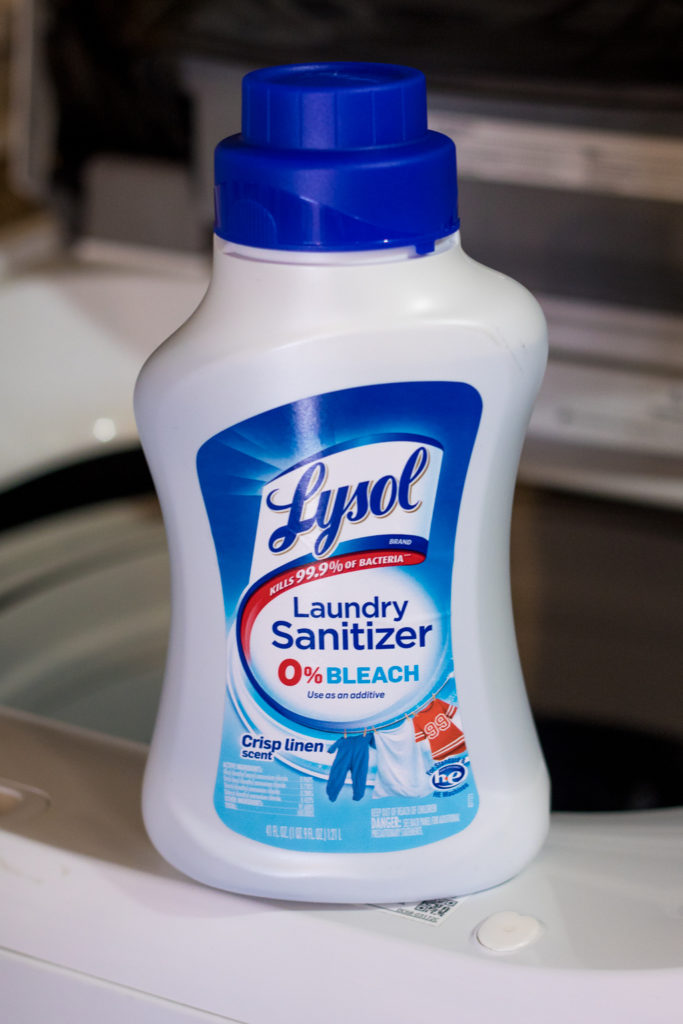 Lysol Laundry Sanitizer can help eliminate odor causing bacteria that detergent can leave behind, helping my laundry smell fresher and free of germs and bacteria!
I was so excited to try it!  You can tell I'm a mom when laundry gets me excited lol!
So I tried it on the stinky mountain of laundry that has been taunting me since last week (Okay, okay, week before last! Lol).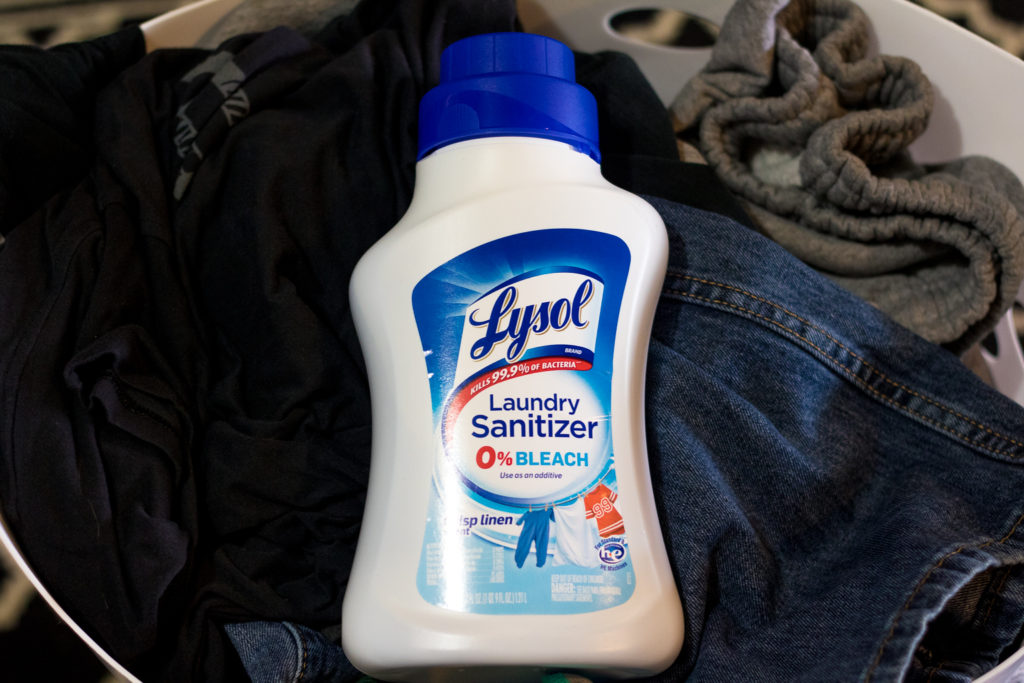 I was shocked!  My laundry smelled fresher and I instantly felt cleaner lol.
With the upcoming cold and flu season I know I will be using this a ton to give me a peace of mind when Dean comes home from school.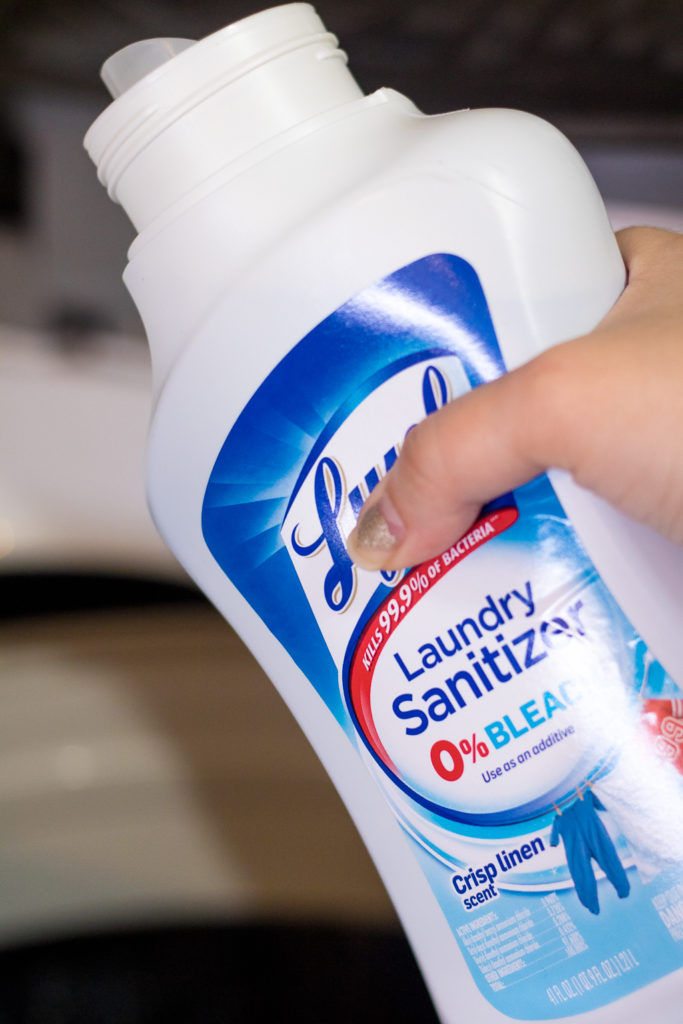 As a busy mom with a hardworking husband and 2 little boys you have no idea how happy I was to find this and share it with you!
When you are at Target just head to the laundry aisle and find Lysol Laundry Sanitizer with the sub-segment laundry additives.
Right now there is a Cartwheel offer for 5% off Lysol Laundry Sanitizer – Crisp Linen 41oz from 10/29-11/11. You can also get the product for $5.49 from now until 11/5!So get your Cartwheel Offer and try it out!  You have nothing to lose but stinky laundry and bacteria!